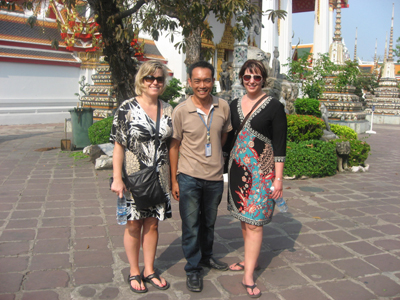 We arrived in Bangkok and upon checking into our hotel, we had a note from our tour guide, Jerry, confirming that he would meet us in the lobby at 7am to begin our tour of Bangkok. Jerry was waiting for us the next morning and the driver picked us up in a very comfortable, A/C car. During the drive, Jerry began giving us information about Thailand and Bangkok. We had a fantastic tour of the floating markets, the Grand Palace and Royal Temple of the Emerald Buddha. Jerry found us a great place to have lunch and helped us order our food. After lunch, we did a tour of the canal and Wat Pho. Jerry provided us with cold water during the day and seemed to know when we needed it most. He made sure we crossed the streets safely and pointed out when there were clean toilets to use (a welcomed detail!). We felt that we could not have seen all of the sights that we saw in one day on our own and would not have enjoyed the sights without Jerry's insights and cultural background. At the end of the day, he took the time to show us how to use the transit system so we could navigate the city on our own. We were grateful that we booked this wonderful tour and would not have enjoyed Bangkok as much without it.

Kristin
Canada
--------------------------------------------------------------------------------------------------------------------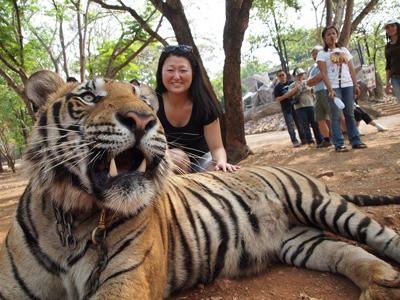 Through Tripadvisor, my friend and I heard about Tours with Tong. We traveled to Bangkok earlier this month. We both wanted to go to Tiger Temple and participate in the morning VIP program.

Tours with Tong answered my many questions before our arrival about transportation to/from and what to expect at Tiger Temple. On the day of our visit our guide, Kung, showed up on time at 5am at our hotel.

On our drive (about 2 1/2 hours), she explained the rules of the temple (both with the tigers and the monks) as well as what to expect for the morning. Lots of information to absorb, but she also repeated things as they were about to happen. On our way we stopped a local mini mart to pick up food for the monks and stop at the Bridge at River Kwai to take photos.


Upon our arrival, Kung had our cameras and documented the entire experience. She has great relationships with the staff, as she takes people there often, so she got us right in with the baby tigers and made sure we got great pictures with the larger tigers.
We had such a great time and Kung made the day a lot of fun for us! On the way home, we stopped at a small coffee shop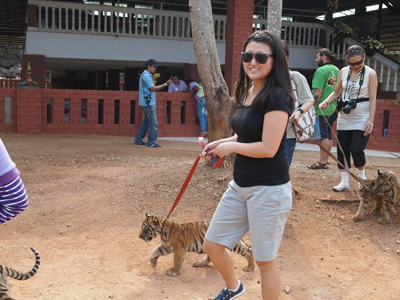 to stretch. I'm sure there is an option to stop for food, but we anxious to get back to Bangkok.

I would highly recommend Tours with Tong when you're visiting Bangkok.



Courtney Williams
March 2011.