My husband and I had our very first trip overseas and to Bangkok. Prior to leaving we researched our destination and came across Tong's tours with so many fantastic recommendations. We just had to tour with her. And so glad we did. What an incredible two days we had – one with Tong and one with Jerry.
Day 1 was a big day with Tong. She picked us up from our hotel early in the morning. We were driven in style and comfort in her SUV and offered cold towels and cold drinks all throughout the journey. Our first stop was to the floating market. Tong made sure we arrived early before all the crowds arrived. Tong bought us yummy food along the way and helped us with any purchases we made.
Tong made sure we were always comfortable with toilet stops and interesting stops to a temple, china factory and wood carving factory. Her commentary along the way was always informative and full of humour.
We arrived at the Tiger Temple early enough to have a play with tiger cubs and patting some incredible full grown tigers. Tong made sure we were always first in line for everything and made us feel like very special visitors. Tong took care of all our photography and we ended up with very professional photos. We walked with the tigers to the canyon and then got special photos taken with the tigers' heads in our lap. We were thrilled with that but to our amazement Tong got us a special privilege to lay with one of the biggest tigers. What an experience. The next big surprise and thrill was to visit Bam Bam the bear (Tong's adopted daughter). Tong really has a special relationship with Bam Bam  and feeds her all sorts of 'goodies'. We felt very special feeding, patting and being in the cage with Bam Bam. We were amazed how all the animals just loved Tong and we feel that the tigers and all the other animals are extremely well cared for and looked after  by Tong, the monks and all the staff. What an amazing experience.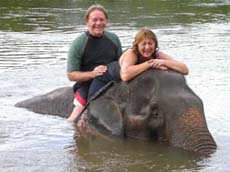 We left the Tiger Temple to go Elephant Bathing. On route we stopped and hand fed monkeys. On arrival at the elephant park Tong told us to change as we would be getting very wet. Little did we know what we were in for. We hand fed the elephant and had a pleasant and relaxing ride down to the river. Then the fun began. We rode her into the river where she squirted us relentlessly with tons of water from her trunk and tossed us off on numerous occasions. All in a very cheeky and playful manner. We even brushed and washed her with shampoo. We had a water fight with her but guess who won? All the while Tong was taking photos and laughing hysterically. It was the most incredible and funniest experience we have ever had.
After exhaustion and having a cold beer (offered by Tong) we were off to our last stop – The Bridge over The River Kwai. We walked across the bridge with more special photos taken by Tong. A little apprehensive when we heard the train coming but Tong said she liked to take 'before and after shots' of tourists. She has a great sense of humour.
We arrived back at our hotel in Bangkok about 9.30pm at night exhausted and happy. It was hugs and a sad goodbye to our special friend, Tong. But we will see her again on repeat trips to Thailand. She is one incredible tour guide and lady.
Day 2 with Jerry (just as fantastic) will be on a separate review.
Lyn and Ray Larter
-------------------------------------------------------------------------------------------------------------------------------------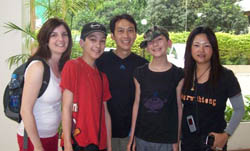 On rare occasion you come across a person who is truly passionate about what they do. Tong is one of these special people. She is full of zest and finds joy in bringing happiness to other people. She always goes the extra mile to ensure you have the best experience. A tour with Tong will be an unforgettable one.
Edmund Wong
Surrey , Canada
-------------------------------------------------------------------------------------------------------------------------------------
We were very pleased with the service provided by Tong. Although she herself wasn't personally available to give us the tour, the personable and very knowledgeable tour guide and driver she provided took us in a VIP van to any place we requested to visit. We also had a timely driver who picked us up and dropped us off at the airport. We can definitely wholeheartedly recommend Tong's Tours!
Harold and Gail
Florida, USA