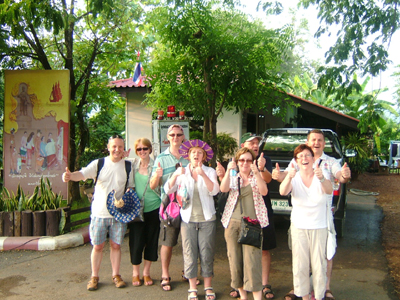 Excellent and Awesome!!
Myself and our party of which there was a total of 4 couples, we all agreed we would use Tongs Travels again. Well worth it and I would recommend them to my friends. Our guide Nina made our trip, as we were Bangkok and Thailand virgins, she made our trip start with a bang. Very informative and enlightened us with the information and history of a very interesting country in more ways than you can think of.
Thanks very much.

David and Audrey Bishop, Gareth and Suzanne Bishop, Gareth and Christine Powell & Peter and Val Morgan. The Welsh Tourists,

we will come back again.
A+++++++

------------------------------------------------------------------------------------------------------------------------------------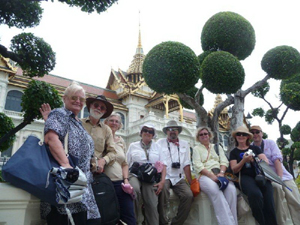 As our cruise ship was going to be spending two nights in Bangkok , we decided to research various tour companies for private tours here.    We found many positive comments about Tong (www.tourwithtong.com) on Cruise Critic message boards.  Because of the raving reviews we had heard specifically  about Tong as the guide, we decided to book her several months before our scheduled arrival.    We were not disappointed.  Tong, by far, was one of the best private tour guides we ever encountered in our many travels around the world.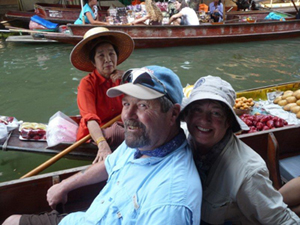 On our first day, she & her driver met our group of eight promptly at the ship in a very comfortable air conditioned private van.   Tong was vivacious, energetic and delightful in her sharing knowledge and experiences of her country.   She took us straight to the Grand Palace and ushered us thru pointing out specific items of interest as well as taking photo's of our group.   As it was rather hot and humid (April), she provided umbrella's, cold water, cold cloths to ensure we were comfortable.    She also took us to the hugh reclining Buddha in Wat Pho.   After a fantastic Thai lunch, we had a river and canal tour, fed the fish (feeding frenzy), and visited a flower market.   On our way back to the ship, (and to pass the time in the van), she had us making "lotus" flowers and singing the official name of Bangkok, which is the longest capital city name in the world: (Krung Thep Manakhon BovornRatanskosin Magin thara Ayutthaya Mahadilopop Noparat ratchathani Burirom Udom Ratchanivetmahasathan Avatartsathit Sakkathattiya Visnukarmrasit"…………
On the second day – the best was yet to come.   She picked us up at 7:00 am and Tong took us straight to the train market.   What an amazing experience this was as it is where the locals sell their wares along the train track.  When the 3 minute whistle goes, they clear their goods, pull back the awnings and let the train go through.   They do this 8 times a day.    We walked the track, single file with Tong – until the whistle blew.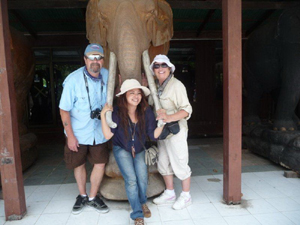 Then we went to the floating market in a narrow boat which was paddled by our boatman.     We could see what a peaceful place this was.   The ship tours take you in a motor powered boat which changes the feeling of this tour.  After doing a "little" shopping from the local venders, sampling some Thai food, we visited a wood carving factory.   The next leg of this tour was to the fishing village.   The van had some electrical problem, and broke down along the highway.    Tong quickly flagged down a passing open back bus (think safari-covered type pickup with wooden board seats on both sides) and all 8 of us climbed in.   This is where most tour guides would have abandoned the day and taken us back to the ship, but not Tong.   We arrived in the fishing village and set off in another boat to see the oyster beds.   We had also picked up bunches and bunches of bananas to feed the wild monkeys (100's of monkeys) along the river banks (and swimming along side of our boat).  What an unexpected thrill this was seeing the tiny baby monkey's hanging on to their mothers and catching bananas.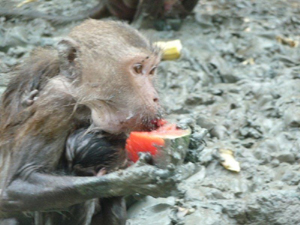 Lunch was served in a "house on stilts" or fishing type platform high above the water.   We climbed up the "ladder" and had a fantastic lunch cooked especially for us.  Upon our return, we found the van was fixed and waiting for us.   Again – another fantastic day. 
Tong is a true ambassador of her city and we do not hesitate in recommending her services.  As a matter of fact, we are returning on another Asia cruise next year.   We have already contacted Tong and requested her service for the 2-days we will be in Bangkok at the end of our cruise.   We had heard from another cruise member on our ship that her Tiger Temple tour (taken with another one of her guides) was an awesome experience and we are looking forward to booking that one with Tong.  She knows the area and gets you into places where ship tours might not go.   We will always fondly remember Tong and can't wait to see her again.   We are attaching some pictures of our adventure with her.
Fred & Carol – Las Vegas ,  Nevada