1|2|3|4|5|6 |7|8|9|10|11|12|13|14|15|16|17|18|19|20|21|22|23|24|25|26|27|28|29|30
31|32|33|34|35|36|37|38|39|40|41|42|43|44|45|46|47|48|49|50|51|52 |53 |54 |55
page 49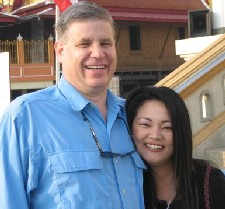 My wife and I have spent two delightful days with Tong.  Even though we have been to Thailand many times, our days with Tong provided fresh insights into the Land of Smiles.   Tong's warmth and good humor made both days very special.

I contacted Tong by E-mail to engage her services for a day in November 2006.  We had many exchanges working out our itinerary, but eventually cooperated on a wonderful plan.  It was an unbelievable day that Beth and I got to share with our dear friends Bob and Karen (of Fodors fame).

Tong picked us up at 6:00 a.m. and took us to a street north of the Grand palace.  We made merit by donating food to monks.  Tong demonstrated the proper form and we were mostly compliant. (In fact, Tong's gallery has a picture of me kneeling making a donation).  We then bought some pre-packaged items and went to a nearby Wat to donate these.  A monk blessed us and we were given some holy water that we gave to a nearby tree.

Off to a market to buy two live fish destined for someone's table.  We achieved additional merit by releasing them into the Chao Phraya thereby saving lives.

Back in the car and drove an hour and 15 minutes outside Bangkok to the Fishing village known as Tong's secret place.  We were greeted by Reed and his wife and shown the mechanics of fishing.  Then we "hopped" into a long-tailed boat and we were off.  Tong provided umbrellas to ward off the sun.  We diverted into an inlet where Reed made a few haunting calls.  A monkey warily approached.  Reed threw him a banana and suddenly we were surrounded by a hundred monkeys.  The back of the boat had lots of bananas and we spent a very pleasant 20 minutes feeding the monkeys. 

Rode out into the bay and saw the fishermen in action.  Reed took us to several boats so we could see the details of the operation.  We motored to a bamboo house in the middle of the bay where we were given a wonderful lunch by Reed's wife.  There were many dishes and all were super.  Even Bob was full.  There was much laughing and giggling.  Back in the boat and back to shore.

Drove back to Bangkok where we went to an orphanage in Nothanburi.  We had arranged with Tong to make a small donation as well as provide a snack for the kids.  There was a sign thanking us.  We played long and hard with the children after the snack. 

All four of us Thailand veterans were amazed at the wonders of the day.  We agreed that it was one of the best days we had spent in Thailand.

The next year, as soon as we booked our flights to Thailand, I contacted Tong and reserved a day with her.  Again, we exchanged E-mails and conjured up a plan.  Tong managed to convince me to go to the Floating market.  Beth and I had been before and we were unimpressed.  I decided that it would be a test to see if Tong could make this interesting.  I'm glad to say she passed with full honors. 

Up early and off to the FM outside Bangkok.  Tong parked and we immediately went to a boat and in we went.  We made our way through the early vendors with tong stopping at a few and making some purchases.  We were treated to some culinary specialties.  Then we went off the beaten canals into some more residential waterways.  These were fascinating and relaxing.  It was a great visit to the Floating market.  Well worth the time.

Drove about an hour to the Tiger Temple.  We were amazed at the Tigers.  Played very gently with a few cubs and got to walk with some grown-ups.  Into the canyon for the pictures.  It's amazing to see these wonderful animals close up.  After the tigers, we met Tong's friend Bam Bam, a bear.  Tong had bought many food items in the floating market and Bam Bam was the beneficiary.  A wonderful half hour with Bam Bam.

Drove another hour to the forest orphanage.  We had arranged a small donation and got to meet the kids while handing out ice cream cones.  A tour of the facilities and fields where they grow much of their food.  The kids swam in the River and we played with them while trying to stay dry.  The kids were wonderful.  They were playful and respectful.  Tong's devotion to this orphanage was touching.

Another very special day.  I can absolutely guarantee that a day with Tong will be the highlight of your trip to Thailand.  You can E-mail me at gpanda52@aol.com.
Andy Levine
1|2|3|4|5|6 |7|8|9|10|11|12|13|14|15|16|17|18|19|20|21|22|23|24|25|26|27|28|29|30
31|32|33|34|35|36|37|38|39|40|41|42|43|44|45|46|47|48|49|50|51|52 |53 |54 |55