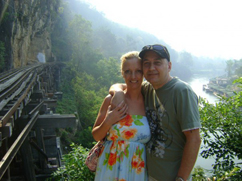 My Husband and I visited Thailand with friends in February this year, this was the second time for us but the first for our friends so we thought we would arrange a tour.We have never used guides before but after reading Tongs reviews thought we would give her a go.After months of emails being sent back and forth to arrange the perfect 4 day tour I had an idea it would be just fine as everything was tailor made from start to finish.We were all a bit nervous as we were just about to spend 4 days of our holiday with a complete stranger what if we didnít get on, but from the first time we saw her smile in our hotel lobby we all knew it would be just fine, but I donít think any of us knew just how great a time we would have.
The first day was a tour of Bangkok and within the first 5 minutes Tong had us feeling like we were best friends, our driver was Roger who was also very very nice, we were taken to the Grand Palace, reclining Buddha and a canal tour which we both did last time but this time we learnt so much about all the places with Tongs never ending encyclopaedia of knowledge, and she made it all so interesting and had us all mesmerised with her upbeat personality, we all said we wanted what she had for breakfast.She then took us for a lunch and very soon realised that my friend did not really take to the hot Thai food so quickly and throughout the whole tour made sure that there was something there that she could eat.
The following morning we were picked up at the hotel at 7am and we were having trouble with the hotel trying to charge us for 1 night we never stayed because they booked us in early, within 10 minutes of Tong arriving she had sorted it out for us and we were on our way.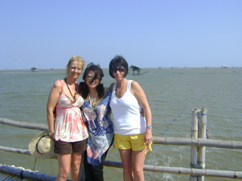 Our first stop was past salt and shrimp farms, I didnít know that there was so much went into making shrimp paste, but Tong did, we then went to the train market which was very exciting and again very knowledgeable as tong seemed to know everyone and everything, and she made the whole experience fun, then on to the floating market, we did this as well last year but as a tourist which is defiantly not how Tong does it, we were taken to the local parts of the river and stopped very often for local cuisine for us to try, coconut pancakes yummy, then it was on to the fishermanís village I would say this was one of my highlights, feeding the wild monkeys who Tong and the boatman seemed to have a rapour with, calling them down and within 2 minutes they all seemed to know they were there to give them their dinner of bananas and water melon, we were then taken to a local fishermanís house in the middle of the sea for the most amazing lunch nothing was to much trouble for Tong, making sure we all had enough to eat and drink, and even personally washing all our hands, which the men found great.We were then taken to our hotel in Kanchanaburi and given an hour to wash before Tong had arranged dinner on the edge of the river Kwai.We all sat there for hours just eating, drinking and talking about all aspects of our lives and it was then that we all realised what an absolutely amazing, funny, and special person Tong was.
The following morning we met for breakfast and then off to the Tiger temple for our VIP tour, what an experience there was only us four and two other couples, we walked, played, bathed and fed the tigers and all the time tong would make sure that the cameras were in full swing and of course looking out for our safety, I know a lot has been said about the welfare of these tigers but throughout our time there I only saw them in very good health and enjoying there playing and bath time, it did not seem like a tourist trap at all, I think the afternoon trip is a different story with so many tourist having there photos taken I think that could be a bit stressful for them and I wouldnít like to see that.
Tong then took us to a great restaurant for lunch, we had a table outside in a little gazebo, she would not eat with us this time as Roger was eating inside and she didnít want him to eat alone but she still wouldnít go and eat her dinner until she was sure we had enough and everything was ok, we kept telling her Go eat your lunch but she wouldnít go she just kept piling more on our plates, we had to tell her again and again we were ok.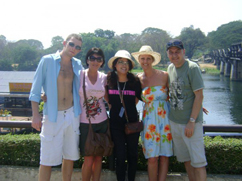 Then it was off to the elephant camp, I think we all had the best time here and had never laughed so much, firstly we fed the elephants bananas then took the most amazing ride bare backed down to the river Kwai, we were taken into the river where the elephants started a water fight with us, all the time Tong is on the river bank screaming orders at them to soak us and screaming with laughter when we were both thrown off into the river, we then played some more with them in the water and gave them a wash.We then walked back to the van were Tong produced some gifts for the children of the camp that she had brought at the floating market, but there were two children who didnít have any so being the loving person she is she walked them back to the van and gave them both biscuits and sweets there faces just lit up. We were then taken to the waterfalls, it was hot, we were tired but Tong kept our spirits up joking constantly that we didnít even notice, and when we got there it was all worth while it was absolutely beautiful.
We were on our way to the floating hotel on the river Kwai when Tong got the bad news that they had double booked her room and she would not be staying with us but at a hotel further down the river, when she dropped us off after making sure our rooms were okay and that we had the best table in the restaurant for dinner and breakfast and we were settled in off she went to her hotel, we had just spent 3 days with her taking complete control, making sure everything was done just right and now we were alone, it was like having your right arm taken away.Having said that it was still an amazing experience, no electric and no hot water just floating on the river listening to the wild animals, truly amazing.