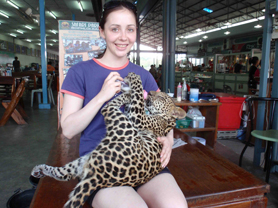 Nang collected us from our hotel at 7am.
While we were on our way to the train market, Nang and our driver pointed out places along the way and told us stories about some.

We found the train market to be very interesting because we were able to see the different types of food that Thai people buy. It was a great experience to see the stall holders preparing for the train to go through the middle of the market. As we were walking to our vehicle, Nang bought some Thai pancakes and sticky rice for us to try. It was great because if she did not do this, we would have walked straight past and never tried them... and the pancakes were delicious.
We then headed to the floating market, which was extremely busy! As well as going through the market, we went through the back canals where some Thai people live. Before we left the market, Nang bought some guava for us to try.

Nang frequently took our camera (after asking) to take photos of us so that we could all be in them.

Our next stop was wood carving. Then off to the Kanchanaburi Cemetery. We then chose to pay to go into the Kanchanaburi Thailand-Burma Railway Centre.
Following this we went to the Bridge over River Kwai. The road was very busy so we were asked if we would mind walking the rest of the way (which was not far at all). We are so glad that we said yes because we were able to try another new food. What was better than that was the leopard on the side of the road (which was there advertising a zoo). We paid to nurse it and have photos with it.
We then had the choice to have lunch there or travel further and then stop. We chose to have lunch at the River and it was a beautiful meal! (The service was slower than we would have hoped given how much we had to fit into the one day.)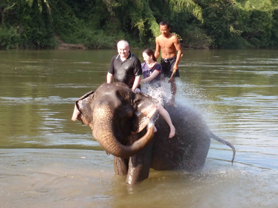 We stopped for a few minutes to feed the monkeys Nang suggested that to give the monkeys water as all people seem to do is feed them, on our way to our next destination, which was bathing with an elephant. There we were splashed, dropped into the water and taught to climb and sit on the elephants trunk. It was a great experience!

Throughout the entire trip, Nang could not have explained things in more detail or have been more helpful. Her knowledge is extremely thorough and her english is excellent!

Both Nang and our driver Rod were very kind to us throughout the day.
We were then dropped back at our hotel at 7.15pm.

Elyse Sharon & Ed
Adelaide, Australia.
-------------------------------------------------------------------------------------------------------------------------------------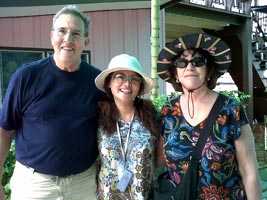 My husband and I just returned from a 32 day trip to Asia which included a 3 night stay in Bangkok, Thailand. We had an amazing experience there because of the tour company we used. TourWithTong is owned and operated by a woman named Tong - truly a woman of heart and compassion. She is passionate about making sure her customers have memorable experiences while touring with her company. Her employees are fantastic - knowledgeable, pleasant and very accommodating.
We used the services of her staff as well as Tong herself for our tours. Tong wants people to be able to afford her tours and have the opportunity to see her beloved country.
Therefore, her prices are very very fair and the selection of tours is wonderful.  Also, Tong will customize sightseeing according to her client's needs and wishes. Her touring vehicles are roomy and comfortable, as well. But most of all, after touring with Tong and her staff, you will realize what an amazing experience you have had.
We will cherish our time in Bangkok because of the remarkable tours we experienced with TourWithTong. Thank you Tong!
Sara and Larry
February 2010