I first heard of Tong through Tripadvisor, there are hundreds of glowing reports about Tong on here and I'm so glad I decided to book her for our trip. We are a family of 5 with the children being 5,10,12.  My sister and her husband and our male friend were with us as well. We all had an adventure of a life time. The children were so looked after by Tong, fussing around them to make sure they were having a good time as well, cold drinks and plenty of nice clean toilet breaks.
We had the pleasure of spending 2 days with Tong and some of the high lights for us were visiting the Floating Markets where Tong knows all the tasty food vendors, my youngest son ate his way around the markets, Tong took us around the back passages to where there are houses and the children and us were amazed this is how and where people live. I can still hear Tong squealing in delight as the "Snake man" draped a huge Python around my neck....
We all loved feeding the monkey's along the side of the road, the monkey's antics are something not to be missed, just follow Tong's advice as she is very familiar with these monkey's.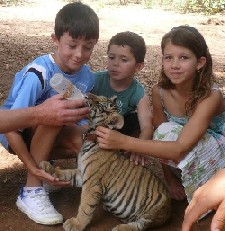 Tiger Temple, while a bit unsure about this place Tong spoke to us for about an hour before we had gotten there and explained the why's, how's and whats of the Tiger Temple. So we went in full of advice and knowledge thanks to Tong, I doubt we would  of had this insight into the Tiger Temple if we'd been one of the other tourists that mass poured off the tourist buses. Tong knows the place very well and while the rest of the tourists went into the canyon we stayed and sat with the baby tiger cubs and watched the Monks interact with them. Then we saw Tongs "Baby" Bam Bam. This bear is beautiful and just adores Tong. The children loved giving Bam Bam her bottle of milk and feeding her mangoes.
I had expressed in my emails to Tong while deciding on our itineries that we'd like to visit an ophanage. Tong told us about one near Kanchanaburi, where we'd be, and it was decided we'd visit this one. The name is Moo Baan Dek and written on one of their pamplets are these words " Moo Baan Dek is an alternative education community for children who have been orphaned or come from very poor families, some of which were also abusive. The founders of the school believe each child can thrive and blossom when given enough love, attention, freedom, and be assured their basic needs will be seen to."  Moo Baan Dek is on the banks of the River Kwai, this is their swimming pool and every afternoon go down for a swim. We had bought the schools children lunch for the day organised through Tong and my children got to serve the lunches for them. This is one of the best days we'd ever had. When it was time to go my eldest son took off his prized soccer shirt and handed it to a boy of his age, we all came away changed for the better.
Other places we visited included the Bridge over the River Kwai, the kids nearly gave Tong a heart attack when she realised they were standing on the bridge and the train was coming. They just followed other tourists and stood back in the little barriers as the train went pass, now they love telling the story of how they'd stood on the bridge with a train passing inches from them. They even had Japanese tourists asking to have their photo's taken with them on the bridge....
Kanchanaburi war cemetry, beautifully looked after and a must visit. Plenty of Temples and little resturants which were all beautiful. Part of the railway above the River Kwai which you could walk along, very long drop below but very beautiful as well.
This is without doubt one of the best things we'd ever done in our lives, we'd seen and experienced things that alot of other tourists wouldn't of. People are amazed with what we'd seen and done, especially with children in tow but Tong made it all possible and she has a special place in our hearts.
Rene, Jason and family
Australia
renejason@bigpond.com