My friend and I booked a tour to the Floating Market and Tiger Temple with Tong whilst we were in Bangkok in February 2008. That day was the most fantastic and memorable day of our whole tour around Thailand. Tong is so exceptional. Just one day with Tong and we fell in love with her! It really was a 5 star tour. We were looked after, Fed so well, Cold drinks and Cold refresher towels on the trip to the Floating Market.
The Floating Market is such a vibrant place, full of color and delicious treats. And Tong knows all the right people. Then on to the Tiger Temple. We were always first in line for all the activities there and photo shoots. We had such an enjoyable time. It really was a \"once in a lifetime\" experience with the Tigers. Whilst we were at the Tiger Temple, Tong showed us into a bear enclosure where we met and fed Bam Bam the bear. The relationship that Tong has with Bam Bam is so beautiful. They really do have a wonderful connection!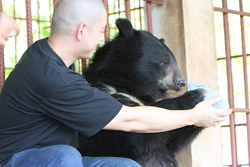 Tong is such a beatiful lady and so knowledgeable. Her enthusiasm and her wish to treat us so well was exceptional. Tong really is the most beautiful tour guide in all of Thailand. Well she told us she was! Ha! No! she really is! Can't wait to see her again! And next time look forward to the Fishing Village or another of her great tours.

We will remember Tong always! Love you Tong!
Brett Marlow and Satit Manon
-------------------------------------------------------------------------------------------------------------------------------------
We had booked the delightful Tong for our day tour, which started at 6.30 in the Lobby of the Sheraton Grande Sukhumvit.  What a wonderful person she is. Cheerful, humorous, intelligent speaks English fluently and an absolute joy to spend time with. She is a walking encyclopedia about Thailand and its customs, what a wonderful choice we had made in choosing her as our Tour Guide.
She took us to the porcelain factory, woodcarving factory both of which were very interesting.   She had an abundance of cold face washers' cold water etc for our comfort throughout the day. We then went to the Floating Markets where she has a car park and a boat reserved for her at all times, very handy indeed.   This part of the Tour was, as you would imagine cruising through the waterways looking at how people also on their boats sell their produce basically a market on water. It is very interesting, great photos to be had and if you have not been before then a must for the first timers. We had previously organized for Tong to take us to a good Thai Restaurant for lunch and in good Tong style she chose an exquisite venue. We then went onto do the Palace and Temples etc.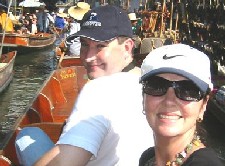 What we saw was enough to satisfy our curiosity we were back at the hotel by about 4pm. It was still a relaxing day. This tour in total with all expenses cost about 4500 baht.
To sum it all up as far as my Bangkok memories are concerned I think of Bangkok then Tong comes to mind and I realize that without Tong that the holiday would not have been as memorable.  Thank you Tong
Cheryl and Byron Kape
cheryl_waugh@bigpond.com