1|2|3|4|5|6 |7|8|9|10|11|12|13|14|15|16|17|18|19|20|21|22|23|24|25|26|27|28|29|30
31|32|33|34|35|36|37|38|39|40|41|42|43|44|45|46|47|48|49|50|51|52 |53 |54 |55
page 11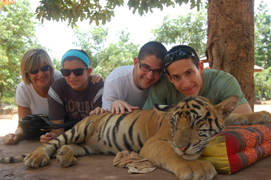 We had a great time with Lilly during all three days we toured with her. She isvery informative and energetic! The first day we went to some local markets where Lilly pointed out all the local delicacies for us to taste. Then we went to the Grand Palaces where Lilly shared with us the history of this amazing sight. She was also very considered with keeping us comfortable and making sure that we stayed hydrated in the heat of Bangkok. The canal tour was interesting and memorable and really gave us a glimpse of how people in Bangkok live.
In the next two days we went to the Floating market, the Train market, the Tiger Temple aswell as visited the village on stilts. Feeding the monkeys was a highlight of our tour with Lilly! She arranged all the food for the monkeys aswell as our Seafood Feast in one of the houses on stilts. She never lost interest or energy wherever we were of however long the days were. Overall we had a great experience with Lilly and can highly recommend her to other families.
Arianne Wynperle & Family.
June 2010.
------------------------------------------------------------------------------------------------------------------------------------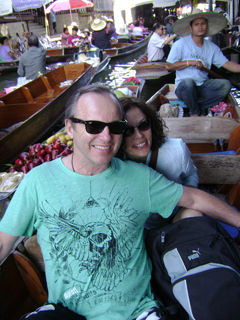 We booked a half day tour with Tong to visit the Floating Market and Train Market. I had read favourable reviews about Tour with Tong on Trip Advisor  What a fabulous day we had.  We were so fortunate to have Tong herself as our guide, although I am sure all her guides are good.   From the moment she picked us up at our hotel we felt it was going to be a great day.
Tong is friendly, energetic and entertaining, and very caring, making sure we were happy with the way the day was going. The floating markets were interesting and Tong made sure we got to try the local treats.  She took us also to the quieter areas of the canals where the big tour groups don't go and we saw a more quiet peaceful side to the markets.  Later it was to the train markets which were fascinating - produce is actually sold either side along the train line for what seemed about 1/4 km - then when a train comes along the vendors rush to take their food off the lines and the buyers also get out of the way.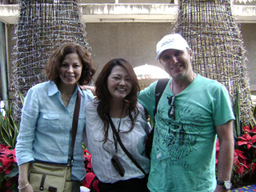 We were lucky enough to witness 2 trains pass by in the time we were there.  Tong explained what all the local produce was as there were several things we hadn't seen before. This is an actual market for locals and we couldn't believe how it functions so well along a working train line!   We learned so much that day as Tong provided a lot of information and details.  She is also knowledgeable about many issues in Bangkok and answered a lot of our general questions on the drive back to our hotel.  Had we done this tour with a big group I know we wouldn't have enjoyed it half as much.  Tour with Tong is definitely the way to see Bangkok, and I wish we'd had time to organise another tour with her during our brief stay.  Definitely next time !

Tony & Rosemarie Butterworth
Sydney, Australia
January 2011.


1|2|3|4|5|6 |7|8|9|10|11|12|13|14|15|16|17|18|19|20|21|22|23|24|25|26|27|28|29|30
31|32|33|34|35|36|37|38|39|40|41|42|43|44|45|46|47|48|49|50|51|52 |53 |54 |55