Bob & I were going to be in Bangkok for a few days as we transited to Cambodia. We had been to Bangkok several times but this was the first time we had actually looked for a guide for one of the days we would be there. In all our trips we had never been to the floating market & Bob had never been up the River Kwai. We were luckily able to find a day when Tong was available.
We spent an absolutely wonderful day with her. It started at 630am and ended more than 12 hours later. She showed not only the tourist trodden canals of the floating market but we also spent time heading off the beaten path down canals lined by homes and local businessí. It was so peaceful and interesting to be out there. Tong is happy to point out aspects of life on the canals that you would never notice if you didnít have a local with you. After this we headed up to the Tiger Temple where it was amazing to see these huge creatures at such close quarters. Tong loves these animals and all the others at the temple. Her affection for them all is so obvious in her joy.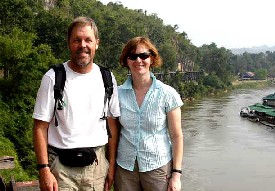 We then headed on to the River Kwai for a ride on the railroad and a walk along the river. This is a beautiful area. Then it was on to a restaurant by the river for a great lunch. Tong always makes sure you are well supplied with wonderful food throughout the whole day! It was a wonderful day out. Tong is such a pleasure. She is funny, professional, delightful and just a joy to be with. She loves what she does and loves sharing information about her country with visitors. After spending just one day with her you leave feeling like you have made a friend as you have gradually learnt about her childhood, family & glimpses of Thai life that you can only get from a local. I highly recommend her.
Julie & Bob. USA
-------------------------------------------------------------------------------------------------------------------------------------
Having read some great reviews of Tong on tripadvisor.com, we booked her for a day in January 2008. Tong picked us up at our hotel right on time in her very comfortable SUV & we set off for the most memorable day of our trip to Thailand. Our day included a visit to the floating markets, Tiger Temple, elephant ride & River Kwai with lots of other interesting stops on the way.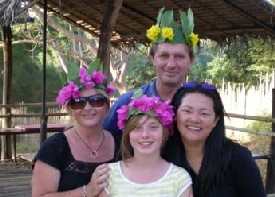 Everything about our day was made so much more personal & enjoyable by Tong's thoughtfulness & knowledge of the people, culture, food & places we visited. We would not have had the opportunity to experience & taste the things we did without her. I would not want to spoil anybody else's surprises of their day with Tong by going into every detail, but cannot recommend her highly enough. Tong makes your day so special & one you will always remember. Our day with Tong is best summed up by the smiles on our faces & the big hugs at the end of the day & we can't wait to come back to Thailand to have another adventure with her.
Rod, Karen & Katie Cooper, Australia
-------------------------------------------------------------------------------------------------------------------------------------
Our day tour with Tong was one of the most memorable highlights of our holiday to Thailand and we felt privileged to have had her as our guide. Her warmth, generosity, humour, and bubbly personality ensured our day tour out of Bangkok was not only filled with all the wonderful sights she showed us but also filled with lots of laughter and memories to cherish always. I have already and will continue to recommend her services to anyone who is travelling to Bangkok, and of course when we plan our next trip to Bangkok booking another tour with her will be a priority for us....Fishing village next time!!!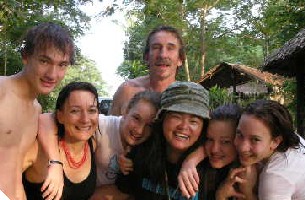 Being a new traveller to Bangkok one is often unsure as to what to see or fit into a day, however Tong ensured our day was jam-packed with the maximum amount of sights and activities that we could fit in during a 14hr time frame which began at 0630hrs pick up. As a family of six we had booked a VIP van which was so lovely to cruise in and having Tong in the back with us was great for all the information that she shared. Our day included the following: Temple visit, Royal china painting complex, wood carving, floating market, tiger temple, lunch at a Thai restaurant, monkey feeding in the wild, bathing with elephants in the river, and a quick visit to the river Kwai before driving back to Bangkok. Loved it all however our favourite thing for us all was definitely bathing with the elephants in the river - Tong and her nephew took so many photos of us which was absolutely fantastic.
Fondest thoughts and kindest regards to you Tong
Love Marty, Peter, Carlyn, Erin, Brennan and Sarah Dixon