In July 2006, my friend and I traveled to Thailand for three weeks. While in Bangkok, Tong served as our guide for two days.. Tong is amazing guide, a great person and now a great friend. I have traveled all over the world and used private guides in every destination and have never been as impressed with a guide as I was with Tong. I would highly recommend her to anyone looking for a guide in Bangkok. She is fun and intelligent and just a really great person. She taught us so much about Buddhism and Thai culture (all in response to our millions of questions) and gave us an experience in Bangkok that would could not have had on our own or with any other guide we encountered while in the country.
The first day with Tong we went to the tourist sights in BKK. The Grande Palace and Royal Temples, the Reclining Buddha and on a river boat tour of BKK. I watched and listened to other guides and Tong was by far the best. She has tons of information if you want it. She learned our likes and dislikes and interests and catered our tour and the information provided to those likes and interests. Not only was Tong full of information, she was well prepared to deal with us Californian girls who were unaccustomed to the stifling heat.
She had water available to us at every turn and could tell when we were ready to succumb to the heat. She took us to a fantastic restaurant we never would have found without her and ordered us the best food on the menu.
The next morning, we woke up early and met Tong who took us to the Floating Market, temples near the Floating Market and then Kanchanaburi. Tong introduced us to the best fried bananas, mangosteens (the best fruit ever) and I helped us bargain and avoid being ripped off.
After the Floating Market, we went to the snake show. It was very entertaining. I loved to see the people squirm when the snakes were near! We then stopped at the Royal Craft store where we bought lots of local Thai Crafts. Tong recommended this place and I bought tons of stuff.

We then headed to Kanchanaburi where we went to the Bridge over the River Kwai and then took a long tail boat to the monkey school. The monkey school is very small and you get a private show. We got to hold the monkeys and take lots of pictures. Since I love monkeys, I loved this place. I recommend it.
Then we went to the Tiger Temple which is another great site. After signing a waiver on our lives, we took lots of pictures with the Tigers and other animals in the temple. After a 12 hour day, we headed back to BKK.

Our days with Tong were great. She is so fun and kind. She planned our days to perfection based on our likes and dislikes. I highly recommend her to anyone traveling to Bangkok. I cannot wait to go back and travel with her again. She has so many ideas for tourists and has a profound love for her country. Bangkok is a huge and heavily populated city and is quite overwhelming. Tong was our savior.

Jennifer Peabody, Los Angeles, CA, USA
-------------------------------------------------------------------------------------------------------------------------------------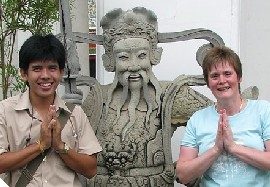 My wife and i had only a couple of days in Bangkok at the end of a tour of Vietnam and Cambodia, and decided to get the best out of our time we needed help. After hearing good reports we booked with Tong. Tong herself was busy but arranged for 'Mr Q' one of her newer guides to take us around. He proved to be a fantastic guide! A 6-30am start to Day1 saw us visit the river Kwai bridge, JEATH museum, death railway trip, elephant ride,feed wild mokeys and visit tiger temple. What a marvelous day with 'Q' providing fresh fruit ( some delicious exotic fruits that we'd never had before ) and plenty of cold water to keep us going!! A more leisurely start to Day 2 at 8-00am involved 'Q' guiding us around the city. Once again many little extras were provided including some flowers for my wife from 'Q' who bought them for her at the flower market. 'Q' gave us plenty of information on all the temples and palaces we saw but not too much to bore us! He took us to a great thai restaurant for lunch and whilst my wife and i ate our meal he nipped out to a pharmacy in order to buy some sunburn soother for me!!
Once again a great big thanks to 'Q' from the both of us. I hope we are fortunate to visit Bangkok in the future and will be sure to tour with tong ( or 'Q' ) !!!
David and Tracy Tattersall
-------------------------------------------------------------------------------------------------------------------------------------