Our first time to Thailand and my husband and I couldn't have been more happy having Kung as our guide - she has amazing cultural knowledge and passion, a fun sense of humour, warm and sweet personality and incredible 'trigger happy photo finger'!!!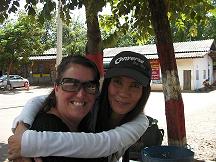 Kung and Mr. Nope arrived at 7am to collect us from our hotel to set out on our way to Kanchanaburi, approximately 2 ? hour drive from Bangkok. Kung was amazing right from the start, not only telling us all about our tour, but all the wonderful highlights of Bangkok including the "do's and don'ts" – invaluable seeing as though we had only arrived in Bangkok the day before!  The long journey actually flew by very quickly.  We especially loved Kung's personal touch in sharing her knowledge about our country and her list of Aussie words and phrases - thanks mate!  We also appreciated Mr. Nope's clean and well maintained vehicle and his expert driving, which made for a very comfortable trip.
I soon learned via communications with Tong that there is much to see and do in Kanchanaburi and that such a long trip should include as much as possible.  We really only wanted to visit Tiger Temple, as this has been on our list for years.  Tong convinced us that we should definitely include other attractions and finally we decided to add Elephant Village also, but quite frankly we were happy to leave it all in Tong's capable hands.  WELL, we got much, much more than we anticipated and couldn't be more appreciative – you guys really know your stuff!!!
Firstly we arrived at the War Museum and Cemetery, which were both really quite moving. Then onto Bridge over River Kwai where we not only got some lovely photos and took in the gorgeous scenery, but thanks to Kung we actually played with and fed a leopard cub from the local zoo – AWESOME!!!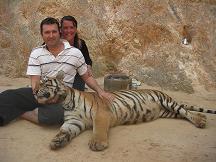 We then moved onto Tiger Temple.  Although we had wanted to do this tour for quite some time, initially we were apprehensive due to some of the unpleasant reviews we had read.  In the end the positive reviews, along with the comprehensive information provided by TWT website and then of course lovely Kung, helped us feel very at ease and happy to form our own opinions.  It was an incredibly hot day and when we arrived at the temple, Kung and Mr. Nope provided us with some icy cold drinks and towels to cool down.  Kung was so incredible, as she was able to arrange for us to be first to do EVERYTHING, which really helps when there are hundreds of people in the canyon in sweltering heat all vying to get up close and personal with the gorgeous tigers and get that special photo.  With "Kwik-Draw-Kung" on the photography case, we got the best photo opps possible!  My husband opted to have a photo with the tiger's head in his lap.  Incredibly, Kung arranged for this to happen a second time with me in the photo as well – outstanding!!!  At this stage we felt like royalty, as Kung whisked us away for a special lone encounter with the tigers left behind at the top of the canyon.  As we were moving away, it was evident that many of the tourists still waiting in the HOT canyon were extremely jealous.  We got some great photos and video with a special moment feeding one of the older cubs – too cute!!!  Kung made sure that we were well hydrated the entire time and that we were well shaded, but due to the wrong attire, I was "purple" by the end and really feeling the heat, so we moved on.  Our conclusion was that, like ALL cats, the tigers are exhausted from the hot sun and activities from earlier in the day - they absolutely need their sleep!  There were still times where they would get a little agitated with the goings on, but all in all they were purely resigned to the days events and the monks do a very good job at respectfully keeping them in line.  Final conclusion – UNFORGETTABLE!!! 
We headed off to what Kung referred to as being a "5 star" restaurant in the middle of nowhere.  WOW!  The food was   fantastic, with gorgeous surroundings and prompt service.  We were led to our own private table and were made to feel like the only ones there.  A great place to sit back, continue to rehydrate and cool down, but most of all relax and take in what we had just experienced.
Next stop would have been Elephant Village had we been left to our own devices…  On the way there we stopped off to buy peanuts and bananas. Just around the corner and to our surprise, there were wild monkeys coming down from the jungle to the side of the road for feeding.  What a great experience! Elephant Village was next. We were able to get up close and personal with the elephants.  We fed them bananas and got some more great photos!  We rode the elephant through the jungle and river and Kung arranged for the keeper to take photos and video of us – invaluable seeing as though he didn't speak English.  My husband was able to move down and take position on the elephant's head – FANTASTIC!!!
Sadly the end of the day had arrived.  We were exhausted, yet exhilarated!  A BIG THANKYOU to Kung and Mr. Nope for one of the best and most memorable days we have ever had!!!
Patrick and Michelle Allchin
Melbourne, Australia