1|2|3|4|5|6 |7|8|9|10|11|12|13|14|15|16|17|18|19|20|21|22|23|24|25|26|27|28|29|30
31|32|33|34|35|36|37|38|39|40|41|42|43|44|45|46|47|48|49|50|51|52 |53 |54 |55
page 9
Testimonials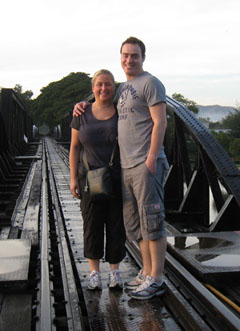 We organised the trip as it was recommended by one of our friends. We were not disappointed. It was by far the best thing we did on our holiday and it was done on the first day. We were picked up at 5am in a very nice minibus by Kung our guide and our driver. Kung was absolutely fantastic and made the day even more special. She was very informative and made sure we did not miss a thing on this memorable day.
Once picked up we went to the bridge over the river Kwai and as it was so early we were the only ones on the bridge to see the the sunrise. A truly amazing site.
Then on to the tiger temple where we spent our morning. First feeding the monks and then feeding the cubs. It was amazing.  Playing with the "teenagers" and then walking the adult tigers. It was fantastic.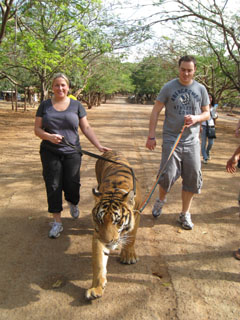 After the tiger temple we then rode elephants into the kwai and bathed them. The weather was fantastic and getting sprayed with water by an elephant is quite refreshing!  Once we were finished with elephants it was straight to the death railway for some photos and a look at the beautiful scenary before stopping for lunch. All in all the trip was about 12 hours and one of the best experiences we have ever had. Kung and our driver were perfect hosts and really helped make our day.
Thank you to Tong and her team 
Gary and Georgina

1|2|3|4|5|6 |7|8|9|10|11|12|13|14|15|16|17|18|19|20|21|22|23|24|25|26|27|28|29|30
31|32|33|34|35|36|37|38|39|40|41|42|43|44|45|46|47|48|49|50|51|52 |53 |54 |55