We spent the first two days of our honeymoon in Thailand with the fantastic Tong, we cannot find the words to describe what an amazing time we had, and could not have been guided around by a nicer, and more knowledgable person!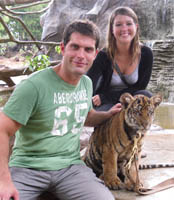 Our first day we visited the War Memorial, the bridge over the River Kwai and then bathed an elephant and went to the Tiger Temple. Bathing the elephant was such an amazing experience and we had so much fun, Tong shot a video and took brilliant photos of us so that we can treasure our memories forever.
On the second day we went to the Fishing Village and also fed some wild monkeys. Of our two weeks in Thailand we will remember forever the time we spent with Tong who bent over backwards to always ensure we were happy and that Jody had a beer in his hand!
Tong - you are sensational, you made our trip, thank you very much, from the bottom of our hearts for showing us your beautiful country, we had so much fun and it was all because of you.
Love
Mr & Mrs Bourner xxx
-------------------------------------------------------------------------------------------------------------------------------------
My husband and I were doing our fourth trip to Bangkok.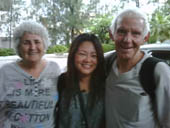 Previously we had hired a guide through a well known travel service so I emailed them about another two days of travel within the district of Bangkok requesting a quote for both days. I was promptly sent a reply but when we saw that the cost was almost double to what it had been two years ago. (I might add that it wasn't cheap then) we decided to search on the web. Tongs name appeared constantly so we decided to contact her. This was the best thing we have ever done.  Tong immediately set about arranging our tours. We saw and went to places totally different to what we had ever experienced before.  She went out of her way to make sure that we would remember our two days spent with her as the best time we have ever spent in Thailand. We had previously been to the floating markets but had read that Tongs tour there was totally different to the usual, this turned out to be sooo true. We ate food that we would never have tried without the reassurance from Tong that it was totally safe (All purchased by her) after the floating markets Tong took us to her secret place, the fishing village, where we saw just how the locals go about their daily routine. The highlight of that day for us was feeding the hundreds of monkeys that Tong and her boat skipper called to. They appeared from nowhere and we spent at least an hour with them. We were given a delicious seafood lunch before returning to our hotel after a wonderful day. The next day Tong took us to the Flower markets in China town after which we did a spot of shopping. Then off to lunch at one of Tongs favourite restaurants. '".Absolutely delicious".   I had previously asked Tong to take us to some orchid farms so that I could purchase some orchids grown in sterile conditions in glass bottles, which is the only way we could carry them back into Australia without a permit. Even though she had no idea where to go, Tong with her bubbly enthusiasm took it all in her stride and before long she had taken us to two farms where we purchase our quota of orchid flasks.   Tong is a treasurer and a great ambassador for her country and there is no doubt whatsoever that we will be contacting her before we take our annual trip next year.  After having her as our guide we have been totally spoilt and would not consider doing a tour without her.   She is a treasure and much more like your best friend than a guide.
Bob & Ivy Wheeler
Australia
Ivy1710@aanet.com.au
-------------------------------------------------------------------------------------------------------------------------------------