We were met at our hotel at 6.30am by Tong.† All 8 of us, including 4 teenagers , embarked on our VIP van, and boy was this a van of luxury, very impressive. After a brief run† down of our itinery for the day, Tong gave us a summary of Thai culture and information was given for all the places that we were to visit. Tong was full of life and this made our trip more enjoyable,† she was so knowledgeable and let us make our own judgement on the things we experienced and was interested in our opinions. Even her jokes were funny!
First we headed for the floating markets, passing the salt plains, on the way we stopped at Benelong Pottery, more for a toilet stop, but we were able to see the painters of this delicate artwork at work, there was no feeling that we had to buy anything like going with a tour company, it was genuinely for a look. We passed the market, on the railway line, where the sellers have to pack up their goods every time the train passes. Then off to see a beautiful temple with wood carvings inside. This was in a small village not a tourist area which was more authentic.
We arrived at the floating markets early, to miss the mayhem of the tourists. Tong went in one boat and bought some delicious foods for us all to try. The colour of all the different foods was a sight to see. Tong changed boats after a while, which enabled us all to experience her knowledge of the markets. We had this delicious spicy soup which we all agreed was the best we had ever had.† She is a kind lady and even bought food for the dogs further up the river, where she took us to see how the people really lived, not usually where the tourist groups would go. The dogs knew she was coming and enjoyed their treats. When we came back through the main thorough fair we couldnít believe the amount of tourists coming through it was bedlam. Thank god we got their early.
Due to a festival, the Bridge on the River Kwai was quite busy, we walked on to it, had a photo taken, Tong is always thinking to take your camera to get family shots for you, which was nice. Then after having to scramble to get out the way for the train that was coming, an experience in itself† (not much thought goes into safety, every man for himself), we left heading towards the Tiger Temple.
On the way, another toilet stop at a wood carving place, where they carve beautiful furniture. A quick look then back on the road. The Tiger Temple is quite amazing, Tong explained the rules about being around the tigers, also the history of the place and the Monks. After signing a paper to say they will take no responsibility if you get attacked basically, we entered.
One tiger was being walked down to the canyon. We had to walk next to it with our hand always on the tigers back, if he walked slow, you walk slow, if he stops you stop, etc. The Monk is on the other side. This was quite frightening but also something not to be missed. I hadnít realised until after I had done it that their was no chain on the tiger, he was free. You then go to the bottom of the canyon where it very touristy. Lots of staff, Tong took us to the beginning of the line, there was a lot of people. A staff member guides you around by your hand to touch the different tigers, these ones are chained up. You could have a photo of a tigers with its head in your lap, but we all chose not to. I donít know if this one is drugged or not but it put up with a lot of laps, and looked very sleepy. We discussed this later with Tong when she asked us what we thought, she then told us this is the Tiger you walked down with. So Im still undecided. Then Tong took us to see Bam Bam, a sun Bear. This was my daughters highlight. We fed her from outside the cage then to our amazement Tong had talked us all in to her cage. We fed her mangoes, and gave her bottles of milk. My daughter even kissed her. Are we all mad?† Tong just makes it all feel safe, and you trust her.
After a wonderful experience like this we were all feeling pretty hungry. We stopped at an outdoor restaurant and had a beautiful lunch, some cold Singas to wash it all down and the kids an icecream cone. (Tong as well.)
Back to our VIP van, to the next stop, Elephant trekking. Tong took us to a camp that donít use hooks on their elephants, so it was much kinder. She asked us if we wanted to bathe with them or ride, we chose ride but know the kids wish that had bathed, oh well always next time. It was more difficult than I had expected, also really uncomfortable. We went down to the river and waded through the water this was great. Then we went back on land and went around the park, this part was a little boring as it was enclosed and it could of been a bit shorter. Anyway good experience. The kids made a banana leaf hat with their rider so they had fun.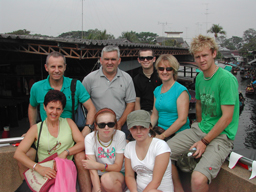 On the road again and by dusk we reach the Orphanage Moo Ban Dek, where I had asked Tong to take us. We had brought gifts and clothes for the kids from Australia. They were delightful and it was a beautiful setting, near the river. My son said this was the highlight of his trip, and he is 17. Our kids and the orphanage kids played table tennis, went on the swings, played with the bouncy balls. It was a heart wrenching experience and one that will stay in my heart forever. Also we sponsored a child while we were there. I have always wanted to do this and knowing and seeing where it is going it so fulfilling. Tong has two sponsored children there and seeing her with them was wonderful.
Our 3 hour trip back to Bangkok was spend dozing in our seats that layed back, at 10.30pm, after an unforgettable day, we arrive at our hotel. Time to say goodbye to a wonderful lady, who cant do enough for you and has a special gift with both people and animals. It was a pleasure to meet her and become her friend.
Ann Cavanagh
Adelaide, South Australia