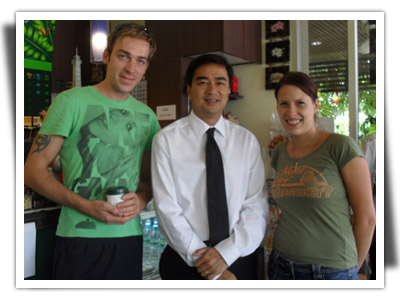 Well what shall I say - we had an AWESOME and REALLY GREAT day which we will never ever forget.
It was full of experiences and interesting things and we can't stop looking at the awesome pictures to think back to it.
We started off with the train market and to explain it in one word: crazy! Something really everyone should have a look at, it's just amazing. Kung was great at the market too since she explained all the wares which was very interesting.
The floating market was as great as the train market and it was lots of fun being stuck in the middle of like 20 boats haha.
After that we went to the snake show and to some carving wood factory which was really interesting too.
Bridge over the river Kwai was a very very sad thing but still good to see in real.
On the way to the elephant farm we stopped to have a coffee and lucky as we are we met the prime minister who was nice enough to make a pic with us J
After that we went to the long awaited elephant bath and it was just super fun. It gave some awesome pics and a great video thanks to Kung who seems to be a professional in that haha, thanks alot for that <3
Then we even went to see some wild monkey – never ever have I seen so many in one place, was cool. And last but not least we had great food in a restaurant in the countryside.
Loved every bit of the day and if we ever go to Bangkok again Ill for sure book again with "Tour with Tong" J
Thank you!

Jennifer Scorer

------------------------------------------------------------------------------------------------------------------------------------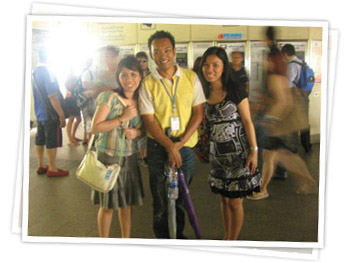 Being with a tour group is such a hassle and you lose the fun and thrills of traveling. But how can you maximize your visit given a limited time in a foreign country? Tour with tong gave us the answer, a private tour from the eyes of a local. The idea of meeting a stranger and taking you to places you've never been to may be disturbing at first especially if you're two young females assigned to a male tour guide. But upon meeting Jerryour wonderful guide at the hotel lobby made us feel more than secured. It was just like meeting an old friend. Just like that. We thought the whole tour would be awkward and boring but boy we were wrong. It was fun and exciting. Jerry was more than a tour guide he did not only gave us the history of the places we've visited but also his personal insights on life and his beliefs which helped us learn to embrace other culture and people from all walks of life and that's how traveling is meant to be. Thank you Tong and Jerry for making our trip worth coming back…and we will be back! ^_^

Clare & Ann
August 2011