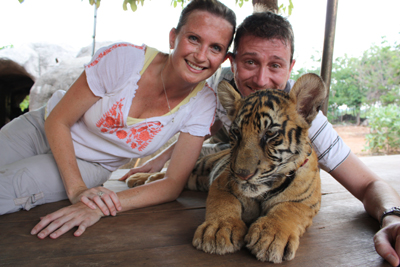 AMAZING, AMAZING, AMAZING!!! We had a full day book with Tours with Tong and even after a 13 hour day we were left buzzing with excitement. After a few email's back and forth with Tong we had our tour sorted, Lilly was prompt and very helpful, we were pretty much set on what we wanted to do on the day and they out did themselves by adding a few extra bits to make it that much more memorable.   
Our lovely tour guide Lilly picked us up at 7.00am sharp from our hotel where we were driven in style and comfort in her SUV and offered cold towels and cold drinks all throughout the day. Our first stop was the rail markets – what an interesting and colourful place, Lilly was so informative and made sure I got some great photo's when the train came and went right through the markets. It was so quick and in seconds its back to business like normal, truly a great experience and so glad we got to see the train coming through.
Then we were off to the floating markets, after going through the Markets Lilly took us behind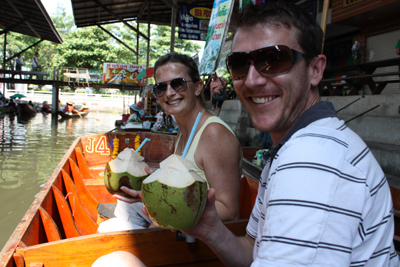 some canals away from the Markets and the hustle and bustle to see how the locals went about their daily routine, on the way back we got into a little traffic jam which was a great way to see how the Markets swell with activity, as we were waiting to get through we noticed two pythons and were keen to take photos with them, this was not a problem at all for Lilly and a great bounce to the day, from there we went to see some local artists working on wood carvings and saw some amazing pieces of artwork, very talented.
The Tiger Temple was next and we were asked if we were interested in feeding the baby cubs, and with out thought we said YES!!!! Lilly called up and made sure we got there in time for the feeding which was fantastic as well as walking along side the big tigers and getting individual photos with!!! Lilly out did her self with making sure we got many different shots for us with the tiger cubs, a truly fantastic moment.
After the tigers Lilly took us to this great little restaurant were we have a wonderful Thai lunch with a well deserved cold beer. Lilly called in our order on the way to make sure it was ready for us when we got there – nothing was a problem and everything was arranged to ensure we had as much fun as possible .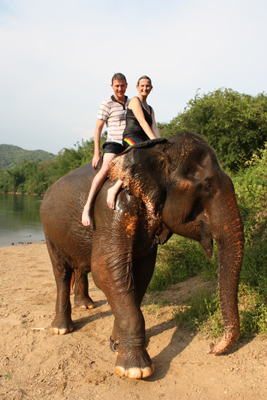 Then we were off to the elephant baths were full moon was waiting for us - and what a beautiful elephant. We started off by hand feeding her some bananas that we got earlier in the day and then we were off, bare back on this amazing elephant, down to the water where it was our chance to have a splash in the water!!!! Even though we put in a good effort full moon won the water fight!!! Lilly again outdid herself with hundreds of photos of us with the Full moon which were all great and captured the moment for us , looking back at them we both looked like kids having the time of our lives. All in all the Tigers and Elephants were truly an amazing experience and a once in a life time opportunity and it wont be forgotten. And with Lilly taking photos for us (which were great) we got to take in the moment and have a wonderful time.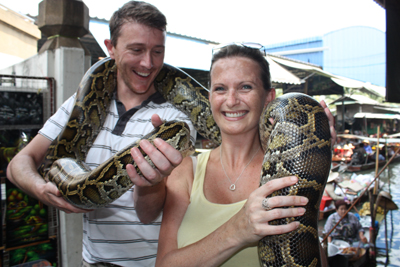 After we some cool drinks we were off to feed some wild monkey's which we found on the side of the road - then the last stop off the day was a few pictures at the Bridge over the River Kwai as the sun was setting, after we got into the SUV to go back to our hotel Lilly was kind enough to put on a DVD documentary on the Bridger over the river Kwai and it was a nice way to end a full day J we got back to our hotel around 9.00pm still buzzing from an amazing day and couldn't thank Lilly enough for an amazing tour. We will be back!!!!! I have referred you to all our curious and jealous friends, thanks you and keep doing what you do best – AMAZING tours with AMAZING people xoxox
------------------------------------------------------------------------------------------------------------------------------------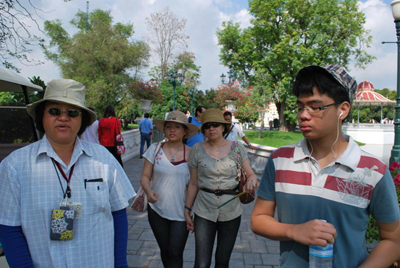 My family & I booked a tour w/ Tong for Ayutthaya a few weeks before we were scheduled to go to Bangkok. After an exchange of emails & texts, she assigned Nat to be our tour guide. With a somewhat shaky start to our day wherein Nat didn't realize we were the party she was to accompany, we started our trip with a lot of laughter & a chockfull of interesting facts about Thailand. Since our trip was primarily for our daughter who loves history & culture, the tour was perfect. Nat was an excellent guide; she was on hand to answer all our questions, made sure we were comfortable, took great photographs & suggested good shots for us to take & adjusted to all our requests. I am not too fond of large group tours & the tour we had with Nat suited my needs perfectly. We are looking forward to our next trip to Bangkok & definitely a tour with Tong, with Nat as our guide is part of our plans. Thank  you Tong & Nat for a wonderful tour of Ayutthaya!