This was our first time in Thailand and Bangkok for us (mother and daughter). Mum and I were in Bangkok for 5 days in December 2007 and on our last day we had our tour with Tong. We had arranged it while at home and were so glad we did. From the minute we met her we knew we'd have fun. She had a great personality and was always joking. First stop was the Floating Market. We got there early and were taken around in a small boat to the quiet sections of the canal away from all the tourists. Our driver, Jek was both funny and entertaining. We ate food from a seller that was so nice. We felt really relaxed as we passed people's houses, it was so quiet. After pictures, Tong took us to the Fisherman's Village which she calls her "special place" I wasn't sure what to expect. When we arrived we met the fisherman called Reid who although could not speak English we could tell he was a nice welcoming man. He took us in his long tail boat into the mangroves, which were beautiful. We stopped and he started calling. Suddenly lots of monkeys appeared, big small, the babies with their mothers were so cute. It was so much fun feeding them bananas I look so many pictures including one monkey with three bananas in his mouth!
Reluctantly, we left the monkeys and rode out into the ocean where Reid showed us how oysters are farmed. We passed several houses on stilts and he pointed out his house, which is beautifully crafted out of bamboo. If I could, I would live there!! We met Reid's wife who had made us a lovely lunch so much fresh fish, crab, oysters…yum. She was so sweet and made sure we were comfortable. After a full stomach we rested. Mum fell asleep but I couldn't because I didn't want to miss the view.
It was time to leave, I didn't want the day to end. The day had been perfect, Reid and his wife were perfect hosts and treated us like family. Tong was the best!!! We love her. I will tell anyone who plans to visit Bangkok to go to no other guide but her.
Good luck to Tong, Reid and his wife.
Charmaine & Hyacinth Sargeant
London, England
-------------------------------------------------------------------------------------------------------------------------------------
Our family of 5- my husband ,3 kids aged 15, 13 & 10 & I met Tong the summer of 07 upon numerous recommendations from the good folks at Fodors's & Tripadvisor. Bright & early, we were met by this charming, energetic, delightful, humorous lady who took us through a wonderful day of adventures in her beloved Bangkok. My kids took a liking to her immediately as she set them at ease in no time at all. Her Air conditioned car Wish was very comfortable for all 5 of us. On our first day with her, she brought us to the Floating Market, Tiger Temple, a 2 hour riding adventure for our kids with elephants, Death Rail & the Bridge of the River Kwai. Along the way, we had great eats, very unique experiences that could only be had with someone in the know. It was a long, tiring, enjoyable & very enriching 12 hour day that we could not wait to see more.
Again decided to book her on our way back through BKK & she brought us to the "Secret Place" where we spent this very relaxing day in the middle of nowhere with Reed as our host. Managed to meet a big gang of monkeys as well & got to take our siesta in the house on stilts. We had originally planned to go back to BKK to see the Temples but decided to just hang out & enjoy doing nothing. Reed even invited the kids to jump into the water & swim & swim they did !!! It was a most enjoyable day.
Tong was also able to help us make very reasonably priced, safe & comfortable RT airport transfers among her team of drivers. After having our concierge make arrangements to watch Siam Niramit, later learned that Tong could also make the same arrangements for way less than we got them for.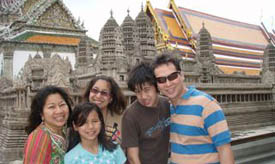 We are again looking forward to meeting up with Tong this March to hopefully take us to the Temples. With Tong as our guide- who knows what other adventures she has for us. We gained a new local friend who is generous & passionate about sharing her country to its guests, very professional & knowledgeable to boot.
We trust you'll have a very special time in BKK as so many of us have !!!
Greeting from Tokyo.
Bola Taylor