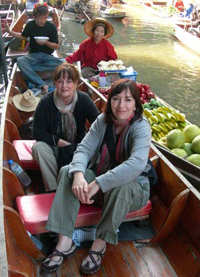 In early December 2007 my mother and I spent a day with Tong outside Bangkok . While Iíve been to Bangkok many times, Iíve never used a guide. In addition, Iíd always avoided going to the Floating Market, deeming it ďtoo touristyĒ. However, for quite a while now, Iíd been reading about Tong on the Fodorís Asia message board and decided that since my mother really wanted to see the market, doing it with Tong was the way to go.
Tong and I emailed back and forth in the months preceding our visit, working out the details of what we wanted to see and do. I told her, for us, it was ďall about the foodĒ, no shopping. Good thing too, because not only is Tong disinterested in taking her clients shopping, the girl loves to eat and knows all the best places to do it!
She picked us up very early from our hotel and even made us instant coffee from a thermos of hot water in the back of her car. When she got in the driverís seat and put on a battery powered headband with glowing devilís horns, I knew we were in for a wild ride!
I wonít go into all the details of our tour which included making merit (giving alms to Monks) at a local Bangkok temple, a stop at a temple outside Bangkok with intricately carved wood panels where we spoke to the Abbott, a relaxing tour through the floating market where we ate incredible food and a trip to the Tiger temple. Suffice it to say, it was an unforgettable day. I fully intend to spend time with Tong again the next time Iím in Bangkok . We had such an amazing time I canít imagine doing that day any other way. Touring with her was like spending time with a friend who lives there; sheís funny and genuine and wants to share her love of Thailand with everyone.
If you want to see the details of our day, including lots of photos, itís all on my website:
Kristina Johnson
Los Angeles , CA USA
-------------------------------------------------------------------------------------------------------------------------------------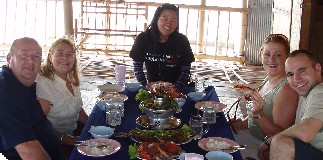 Where do I begin to describe our wonderful day with Tong? From the moment she met us in our hotel lobby bright and bubbly, at 6.30am until she dropped us off early evening she was a joy to be with.† She had actually been waiting in the lobby since 6.00am and was suffering from† laryngitis! Myself, husband Malcolm, daughter Iona and her partner Oly (both 25) all bundled into the very luxurious VIP van-well worth the extra money and our day began. First stop at a small temple with no other visitors -so beautiful and we also got to meet a monk . Then off to the Floating Market-what fun we had. Tong was ordering ,food from all sides and we were all sitting there like a row of ducks passing it up and down between us. I can fully understand why Tong recommends getting there early because when we got back to the pier to alight from our boat it was complete chaos as all the tour buses had arrived.† We all commented that it was a shame for all the tourists as they would see very little where as we has seen all the back klongs and really saw how people lived and shopped.† Off we set again for a'happy stop'(Tong's phrase) at a wood carving factory -the work was equisite and there was absolutely No pressure to buy. Then it was off again to the Fishing Village to spend several wonderful hours with Reed the fisherman and his family. We fed the monkeys- a little scary but lots of fun. Looked at the oyster and mussel fisheries . Skimmed over the mud flats sending the herons flying-such fun. Then back to the amazing house on stilts in the middle of the ocean for a wonderful feast. I can't begin to describe the tranquility and sense of well being we all experienced -I think Reed thought we would never leave. Not being a lightweight I had fun getting up and down the bamboo ladder but it really wasn't as bad as I'd imagined it might be and caused great hilarity for everyone else! We travelled back to Bangkok tired but very very happy and Ttong played a film for the younger (fitter) members of the party whils Mum snoozed in the back!
Tong is a wonderful person and so dedicated. Apparently she doesn't get many British guests-she thought we were adventurous for Brits-we still laugh about that- all I can say is please don't let an opportutunity to spend a day with Tong go by-her enthusiasm is infectious. We can't wait to spend another day with her!!
MALCOLM STUDLEY