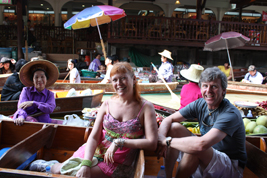 My wife and I had the privilege of an incredible day with Tong in January. We did the Fishermans Village and Floating market trip. What an incredible day. Tong is so much fun we all hit it off immediately and first made a visit to a great Thai locals market the the food items colors and images that are will be with us forever were amazing. At one point Tong said that we should step into one of the stalls so we obediently did as we were told. Observing what came next was almost surreal as a train came right through the market place where we had just been walking.
Off from the market and onto a wood carving place that was great but crazy prices. Then to a beautiful bone china factory where they hand paint everything so amazing.
We then went to an incedible Temple small very personal but the interior was some thing to behold all hand carved teak wood that took two carpenters 10 years to carve. We were fortunate to meet the Abbott of the Temple and have our photo taken with him.
Next to the Floating market, it was facinating watching Tong call throughout the day to different friends informing her about how busy it was. I'm so glad we went when we did as the masses of tourists had left and despite a little crowding at the begining the place was ours. Two of Tong's favorite cooks had remained at the market to cook specially for us. Facinating place over commercialized for tourists. At least we were able to go to the more remote canals and feed some of the dog friends of Tong.
Next off to the fishermans village which was the highlight for us. So incredible met some of the local women fishing for crabs and mussels etc. The wild life was so abundant, very humbling seeing how hard these lovely people work on a daily basis. What a laugh with all the monkeys, swimming up to the boat, hopping onto the boat and taking bananas from us. The views, the peace and quiet, the beautiful mangroves such a magnifiscent place away from all the tourists, so personal. What a incredible day. Tong is a very special lady so full of life and fun.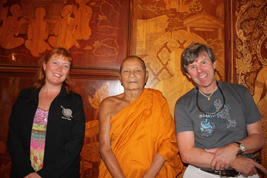 Tong, I was struck by your intelligence and intuitiveness which allowed you to help us quickly understand and appreciate what we were exploring. You had a nutty outlandish personality, but it only served to put us at ease and in a carefree "holiday" mood, and yet your jovial behavior never diminished the importance of your culture and traditions you were introducing to us. You enriched our trip with your experience, knowledge, humanitarianism and joy for life!
We are looking forward to coming back with our grown children in a couple of years and can't wait to visit with you again Tong.

Love,
Mark (Sanwich man) and Susie Allen (Who makes a nice sandwich...)
Leadville Colorado