Below is a comment I left on the Cruise Critic Asia Forum. We were absolutely delighted with Tai as our guide. She is a real jewel. Please pass our many thanks to her for everything she did to make our three days absolutely wonderful.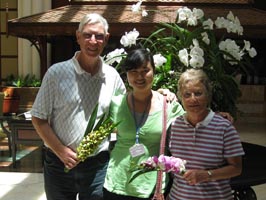 "My wife and I used Tong in April for three days of tours. She did ask for a deposit which amounted to around 35% of the total charge for the three days. Since I had been communicating with her for over a year, I had no problem using PayPal to provide her requested deposit.
Tong assigned Tai be our guide for all three days (Bangkok Highlights, Ayutthaya, and Floating Market with Elephant ride). She was absolutely outstanding. I know I have read similar comments about Tong's other team members, but we would find it hard to believe that they could be better than Tai."
I also want to thank you for all of your help in setting up our tours and the reservations for the Loy Nava Dinner Cruise. I realize how busy you are and appreciate your responses to my many emails.
Best Regards,
Dennis and Rhoda Hill
-------------------------------------------------------------------------------------------------------------------------------------
Our day with Kung
We had agreed to meet in our hotel lobby at 07.00am Tuesday 26/05/2009 by Kung our guide for the day and Nob our driver. We had an early breakfast and arrived in the lobby at 06.50am to be greeted by both who had already arrived. Immediately we were struck by how warm and welcoming they both were and that was just at the introductions. We had hired the sedan car which was adequate for us 2 adults and son and I must congratulate Nob on his driving not once did he give us any need for concern very safe driver.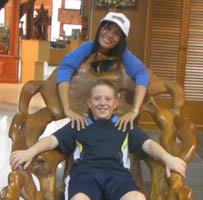 We set off to go to the train market leaving the grey skies of Bangkok behind, Kung was a wealth of information on our travels, pointing out local things of interest on the way was always able to answer any questions we had. Arrived at the train market and toured the various stalls with Kung it was surreal, bought fruit for eating later that morning Kung also purchased her lunch. Thai people (stall holders) more than to show us produce etc and again learned much more on this visit being accompanied by kung. Then the train passed through just fascinating (had seen you tube clip of this, so had been on my list to do).We then met up with Nob and it was off to the floating market. Skies had already brightened up and sun was out, on our way made surprise stop to local wood craftsman shop it was great to see the craftsmen at work and the furniture they produce (shipped all over the world, not cheap but detail and work that goes into pieces, its not going to be).
Arrived at Floating market with boat ready and Kung joined us, we had just over one hour floating around the canals stopping to buy drinks food etc amazing, we also ate fruit we'd previously purchased at the train market. This was a brilliant experience loved the atmosphere there was a real buzz to the place again Kung was right there given us advice and information she made sure we didn't pay over the odds for souvenirs as we had a code word she give us. (she was a joy all day never flagged in her enthusiasm). Joseph was really enjoying himself and kung was giving him lots of attention she made sure he was comfortable all day. Toilet stops never a problem she supplied us with water even had an umbrella which we did use later that day. She really paid attention to our needs.
Now we were heading to Kanchanaburi for the Burma Railway Centre/Cemetery and the famous Bridge really pleased we took the time out to visit, the Centre is well worth a visit and only 100 bahts per person 50 for children also includes free tea/coffee, This is where we met up with Kung after our visit around the centre, took 30 mins out for a drink and snack. We then went over to cemetery which is facing the centre really moving, lovely and peaceful and very well kept.
We then headed to the elephant camp passing the Bridge which we were to do on our way back. On the way we stopped to buy bananas for the elephants (bought kilo's and kilo's all for pennies) Kung phoned ahead to tell them we were on our way, again she pointed out things we would have missed. Wild monkeys were not out the day we passed but the weather was changing skies were becoming darker. On arrival at the camp we changed into swim wear at first all three of us were going to get onto the one elephant but they saw my hubby and decided we needed two elephants.(hahaha)Cost of this visit was only 400 bahts per person Kung took charge of my video/camera. It was an unbelievable experience, must admit was taken aback by the size of the elephants not something you see everyday!!!!!!!!!!!!!!!!!!!heart was racing when riding the elephant down to the river my manhout will still have the scratches to prove this. But i am glad i done it, had fun adrenalin was rushing Joseph had a ball with the elephants even sitting on its trunk. Derek and I did opt to walk back whilst Joseph took charge and rode the elephant back with his manhout sitting behind him. We later fed the elephants the bananas we had bought, it was a fantastic experience and been a real talking point since we've been home. Once showered and changed to then headed for some food, by then weather had changed now had thunder storms and the heavens had open. Went to restaurant recommend by Kung and after a lot of persuasion Kung and Nob joined us, what a good choice food was lovely bill was peanuts cant believe you can eat like a king for so little, Weather was not improving but we decided we'd still go back to the bridge, did see the bridge but rain was pouring couldn't go on it Kung was very apologetic about this why!!!!!!!!!!!!!!!!!!!!!!!!!!.It was now time to head back to our hotel in Bangkok weather was appalling on our way back but as I've said Nob was a very safe driver. Joseph went to sleep but i didn't want to miss anything and Kung was still a minefield of information, so we chatted.
Arrived back at hotel at approx 20.00pm, We had a fantastic day exceeded our expectations got so much out of our day and that was due to Kung, she is a lovely warm lady who looked after us ever so well an angel. It was an awesome day and has only wetted our appetite for further holidays to Thailand. Cant thank Kung enough that day was the highlight of our visit to Thailand. She has a special place in our hearts.
Many Many thanks Love and Very Best Wishes
Joanne Derek and Joseph Robinson
England