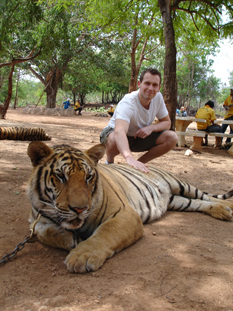 My Fiance and i have just returned from our holiday in Bangkok and Koh Samui. During our 3 days in Bangkok we did a Tour via Tong'sTours and i thought it would be nice to share our thoughts on the forum.
Firstly i know a few travellers have had issue's in contacting Tong and confirming details etc. Personally i had no issues whatsoever during the whole process. There may have been some time wiating for reply's, but i found this no issue at all. Also it was very easy to contact Tong while in Bangkok to confirm pick up etc. My advice is to have patience - as the tours are truely worth it!
Itinerary:
- Salt Farms and Shrimp Farms.
- Train Market
- Floating market
- Royal Thai Handicraft
- Tiger Temple.
- Late lunch in a local restaurant.
- Feeding wild monkeys.
- Elephant bath.
- The Bridge Over the River Kwai.
- Back to bangkok.
Our tour guide for the day was Kung and her driver.
The sights we had arranged to see on our tour were all fabulous, but Kung completed the day, as her knowledge was excellent. However, her friendliness and all round personality was the highlight. Kung is a credit to Tong's team.
A quick summary of the hightlights of our tour.
Train Market was an excellent experience. As being taken through the market and looking at all the stalls with the Thai food was fantastic. Kung ensured to explain a variety of the foods on the market and how they are used in Thai cooking. We also were able to wait for the train to come through the market, which was a quite unbelievable experience.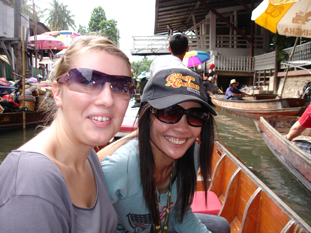 Floating Markets. An amazing experience, i thought the M25 got busy in rush hour!! We took a paddle boat through the markets. Kung had us taken round the quieter rivers also and showed where and how the Thai people live there. We were also able to enjoy some wonderful Chicken Noodle Soup from one of the food boats. Nice and Spicy also!
Tiger Temple. A very surreal experience! We were able to stroke probably within the region of 12 tigers. Kung ensured each time we were at the front of the queue for the pictures and time with the tigers. Kung also managed to get us to walk with the largest tiger when going through the valley, which we were grateful for, unless he decided to use us a scratching post!!! We managed to get some fantastic pictures of this time with the tigers.
Local Resturants - A welcome break for some excellent Thai food and a cold beer! Kung took us to a wonderful resturant and we got her to recommend some dishes - all of which were wonderful.Elephant Bath. The whole day was brilliant, but for us this was the ultimate highlight. Kung had rung ahead and ensured we would have the bath and elephant ride with 'Full Moon'. Full Moon is a slightly smaller elephant, so we was able to sit on her back, without the need for a seat. Also in Kungs words "a little bit naughty", which meant she liked to play. This made the whole experience utterly brilliant, as when we were in the river having the bath with Full Moon, it was fantastic sitting on her back and have her splash copious amount of water over us! It was also very funny when she decided to go in the bushes for a feed. The whole time with Full Moon, felt natural.
The day was a long day, but it was a day we will never forget. Every part of the day was brilliant and it was made better by Kung and our driver. Plus all the people we met and the different attractions. We can not recommend the Tours more highly and when we return to Bangkok we will be booking a tour again and i think some of the attractions above again also. Superb day. 

Thanks
Richard Waters