This was our first trip to Bangkok, so we took the advise of very close friends and contacted Tong to arrange a full day tour. Unfortunately Tong was fully booked that day, but fortunately for us we met Hugo. Hugo was new to the tour group, but we thought he was fantastic. Hugo picked us up (my husband, father and mother) about 6:30am and we arrived back to our hotel about 8pm. What an amazing start to our holiday.
Throughout our day, we went to the Floating Markets, we bathed with the Elephants, we went to the Bridge over River Kwai, we saw gorgeous temples, the Royal Thai Handicraft and an amazing lunch. We experienced so much in one day, it was fantastic. We felt so fortunate. One thing we did notice throughout the day, is every where we went, people knew we were with Tong Tours and were looked after in every way possible.
We felt very safe with Hugo and he made our day so enjoyable. We could not believe how full of knowledge Hugo was. He knew so much about everything, it was amazing. He was so interesting to listen to and learn from. We walked away from that day with a lot of knowledge, understanding and appreciation.
If we are ever fortunate enough to travel to Bangkok again, we would love to be able to spend another day with Hugo to experience more of this amazing place.
Thank you again Hugo, for your professionalism, friendliness, knowledge and so much more.
We wish you and your family all the best.
Clayton & Kylie McErlane
Larry & Linda Marks
May 2008
-------------------------------------------------------------------------------------------------------------------------------------
Janet, Paul, Chris & I (Sue) spent 3 days in Bangkok on our way from UK to Australia. I'd seen the sights of Bangkok before but the other 3 were all 'newbies'! After reading rave reviews on TripAdviser I knew that I had to book with Tong to make sure that we all got the best out of our stopover. I was disappointed when Tong herself was not available, but was happy to be booked in with Nui one of Tongs assistants.

And we were absolutely delighted with our choice. Nui couldn't have looked after us better, and she made getting around Bangkok effortless (quite an achievement) and we had a magical day out to the Floating Markets and Fishermans Village.

Day One - we managed to see the Grand Palace and Temple, Wat Pho, Marble Temple, Wat Arun and China Town and we had a lovely (and very cheap) meal at a typical Thai Restaurant the Nui found for us. With all the traffic and the heat I don't think that we would have survived half the sights without the help of Nui and her Driver! The gold was spectacular - and left us in awe.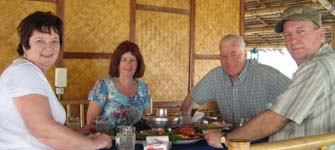 Day Two - what a perfect day - and the highlight of our trip to Bangkok without a doubt. We set off at 7 am and arrived at the Railway market just in time to see the 8:30 train arriving - all the stalls had to be moved out of the way for the train to come through - amazing! Then to the floating market - Nui had arranged an extra long trip away from all the tourist boats - and she purchased noodles from her favourite stall for us to try. She then helped with the bartering for sunglasses and shirts etc! Then onto the magnificent woodcarving factory for a quick stop before the highlight of our trip. Nui had been purchasing bags and bags of bananas along the way, which were all loaded onto a boat at the fishing village, then off we set into the jungle on a fishing boat. After a while the fisherman called out and monkeys started appearing out of the trees - hundreds then appeared all scrambling for the bananas which we had to throw to them! Then onto the fishing grounds to see the various catches made by the locals. Then onto a fishermans hut on stilts in the middle of the Gulf of Thailand/Siam - which we climbed upto with various degrees of accuracy - I had to be hauled the last few steps and landed unceremoniously in a heap at the feet of the fishermans wife! Here we found a delicious fish feast of catfish, prawns, crab etc and rice and we were then able to relax on loungers and watch the wildlife, including sea eagles fly by - we had truly found paradise! It was then time to leave after a magical trip, and we arrived back at our hotel at about 5pm.

Nui was such a good guide, we were truly sorry to say goodbye and Chris will now be known as the 'Happy Buddah' - as he was named by Nui. We hope to return someday and will definitely be wanting to travel with Tong Tours again.

Sue, Chris, Janet & Paul
Yorkshire, UK.