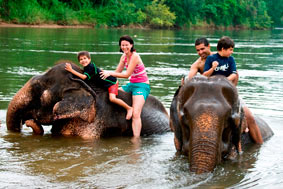 We are a family of 4, my wife Kerry, Joel (10), Caleb (7) and myself that travelled to Thailand in June 09.We had been many times before but this was the first time that we had booked the services of Tong for a full day trip to the Floating Market and Kachanaburi. She came highly recommended from members at the Fodors travel site so we thought that we would diverge from our normal method of independent travel and use a guide for the first time.
We had arranged to be collected from the hotel at 7am. We had breakfast as part of our hotel room rate, but all that was available when I got down there at 6.45 was coffee and juice. This was all I really wanted as I knew that the trip to the floating market would include a lot of wonderful Thai food, so I settled down with a steaming hot cup and waited for Tong. About 5 minutes later I saw a beautiful lady of approx 30, with a smile so wide that it instantly made my spirits soar, approach me.

"MISTER SHANE ?"..She enquired of me. Why did I feel like giving her a hug? I have heard so many great things about Tong, but nothing could have prepared me for the instant connection that I felt with this energetic, warm hearted women. I had high expectations of this day and this generally leads to various degrees of disappointment, but in that instant, I knew that this day would be special.

We spent the next hour, oblivious to the Bangkok traffic, taking in the amazing scenes and listening to Tong talk about religion and politics and history and salt farms and fish sauce factories. It didn't really matter what she was talking about, it was the fact that it was coming from her that made it so interesting.

Our first stop was the Train Track Market. This place is really much more fascinating than I ever imagined, especially with Tong explaining about all the array of fruits, vegetables, spices and various kinds of protein, many still moving, that were for sale on either side, and in some cases, actually on an active passenger rail line. Apparently, due to the very cheap rent in this section of the market, many of the vendors choose to pack and unpack their produce up to 8 times a day to let the train go past. Tong times the visit to perfection so as we get to the end of the market, we hear a train coming and watch the frantic activity as a market rapidly turns back into a train track to allow a very large steam train to pass. This is an absolutely astounding sight and as the train moves away at high speed the vendors instantly begin to reconstruct their stalls and continue on with the day's trade.

The pace of the train is now matched by Tong as she grabs both the boys by the hand and whisks them away and we are left in her wake. She is determined to get us to our next destination before the bus loads of tourists descend so to maximize our enjoyment. Tong has purchased some little pancakes filled with coconut and spring onion for us and popcorn for the kids and we devour these as we drive to the Floating Market which is only about 10 minutes away.

We arrived at the Elephant camp and changed into our swim wear as the majority of our time with these beasts would be spent in the river. Tong rounded up the Mahout's and they took us to meet our elephants. I cannot remember their names in Thai but they translated to "Full Moon" and "Beautiful Women".

The Mahout's presented us with 2 large bags of bananas that we got to hand feed to these immense creatures. I had fed elephants before but on this occasion we were encouraged to get so close and personal with our animals that I could feel their tongues caressing my palm as they took the fruit from my hand.

As I was feeding Full Moon, I noticed Beautiful Women's trunk reach over my shoulder and lift the other bunch of banana's, plastic bag and all, from the step behind me. Apparently, one banana at a time is not the way an elephant prefers to eat. We wrestled with her to try and retrieve the bag, but to no avail. The Mahout did not share our concern, and we found out why when Beautiful Women spat out the bag without a trace of the several dozen bananas that it once contained.

We then moved to a platform and thought that we would wait there whilst our two girls had basket's placed on their backs for us to ride in. What happened next surprised me a little as these very large animals were walked up to the platform straight away. It would seem that we were about to ride down to the river bareback. I could see the horror in Kerry's face. I was not all that worried about myself but I was a little uneasy about the kids being able to hold on. I would have been even more concerned if I had been able to see how steep the descent down to the water actually was.

Next the Mahout took out two large brushes and handed one to each of myself and Joel. He then proceeded to empty the contents of a bottle onto the back of Full Moon as he sang out "SHAMPOO….SHAMPOO…" So we all scrubbed away at our elephants whilst the Mahout inspected our efforts. Full Moon assisted the process by constantly spraying her back, and us, with many gallons of water freshly siphoned from the river.

After at least an hour in the river, we climbed back onto our animals and rode back to the Elephant camp, much more confident this time, and bid a sad farewell to our extremely large friends. While we got changed, Caleb showed his joy by thanking me to bringing him to "paradise" and asked me why we didn't live in Thailand.

Tong had anticipated our desire to end out day with a good feed and had ordered ahead to one of her favorite local restaurants that was close to the Elephant camp. We all shared a feast of Fried Rice, Tom Kha Gai and Crumbed Shrimp washed down with an iced cold Chang. A wonderful way to end a memorable day.

We parted ways with Tong in Kachanaburi at the V N Guesthouse, our humble abode for the next two nights. It was an emotional farewell to our new friend, but we have no doubt that we will spend some time with her again.

Shane Koelmeyer & Family.
June 2009