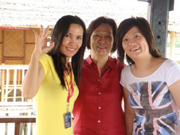 My mum and I totally enjoyed ourselves on the tour to the floating market, fishing village and the train market. The tour guide Kung did a fantastic job and I would say it was a good combination because she could communicate well with my mum. The tour at the fishing village was great and its the best experience I had so far.
Joanne Goh.
------------------------------------------------------------------------------------------------------------------------------------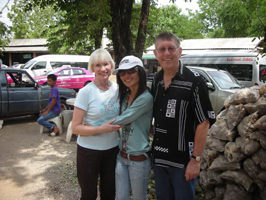 We had an amazing day that started with an early morning hotel pick up. An hour or so later we were being boated around the Floating Markets where we breakfasted on traditional local foods. Our guide for the day was Kung and she was just brilliant. She is well known to many of the stall holders, is very knowledgeable, has a great sense of humour and is very skilled at her job. We were fortunate to also meeet Tong here at the Floating Markets - she was guiding another couple from Australia. On to a wood carving factory for a comfort stop before making off to the Tiger Temple.

This was awesome starting with a parade of many mature tigers with which were photgraphed. We were able to play with a baby tiger and a baby leopard before setting off on a short trek with the tigers that took us to a canyon where further photos were taken for us by the staff. Kung was brilliant in keeping us up front of the large group of visitors and she had also astutely informed us of the extra money raising activities (very expensive) that the Temple staff would try to sell us. We felt safe at all times and were very impressed by the way that the tiger handlers went about their work.
Lunch was at a nearby Thai restaurant and we were looked after like royalty.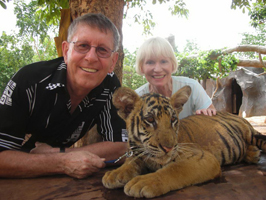 Our final port of call was the Moo Baan Dek Chidren's village where orphaned, abandoned, abused and homeless children ( some 150) are housed and educated. Through Tong we had arranged to provide an afternoon treat for the children ( 4 huge cakes) and we served a piece to every child. We intend to sponsor one of the chidren at an annual cost of US$200. We slept part of the way back to the hotel and also spent a lot of the time asking questions of Kung and answering many of hers.

It was a great 12 hour day not only because of the places we visited but also because of the way that Kung looked after us.
Two years ago we did a tour with Tong that included the train market and the fishing Village. This too was just brilliant and our guide that day was Nui and again she made it a special day for us. Tong certainly has wonderful staff and visitors to Bangkok should check her web sight and book some tours

Stella & John Barriball
June 2010.

------------------------------------------------------------------------------------------------------------------------------------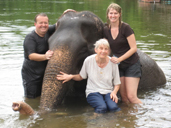 Travelling to Thailand and looking for a tour guide? You can't go wrong with Tong. Having travelled to Thailand 9 times, Bangkok 5 times and used this friendly company 4 times we cannot recommend them highly enough. From Tiger Temple to swimming in waterfalls, staying overnight at a river raft hotel or visiting an orphanage, each tour has been
interesting, insightful and heaps of fun.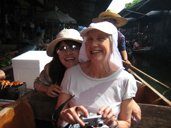 Whether it is one of her guides, or Miss Tong herself they go all out to provide a unique and memorable experience. Depending on which tour you undertake not only do you get to visit the major tourist attractions but gain a real insight into the lives of Thai people, whether they are monks or market stall holders. What Tong and her guides don't know about Thailand isn't worth knowing! With my 68 year old vegetarian mother-in-law in tow, Miss Tong, ensured that "Mommy" was comfortable at all times and even went to the trouble of presenting a birthday cake to my wife and mother-in-law for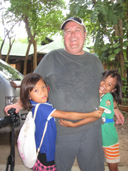 their birthdays. Tong loves to joke and had us in fits of laughter throughout our tours. It's the little touches that make the difference and Tong even found us a papaya peeler we had been hunting for. Our last tour involved Tong feeding us Thai street food all day until we couldn't squeeze another thing in - fried banana, iced coffee, brown soup all hand picked from vendors that she vouches are safe.
An added bonus is that Tong and her guides continually take photos of you with your own camera, and know exactly how to get brilliant shots with tourist attractions in the background. Our best photos from our trips always result from Tong's Tours. We have already booked Tong's Tours for out upcoming trip in January.

Mark & Jo Durbridge
June 2010.