A trip to the land of smiles is a must for everyone at least once in his or her life. But having Tong's guides to show you around the place is the difference between having a good time in Thailand and having a GREAT time in Thailand. Owing to Tong's ever growing popularity , I contacted her FOUR months before my travel at the end of November. To be honest I was NOT suprised that she responded saying that she was already booed for the dates I would be there. But she agreed to accomodate my requests. Since I would be travelling alone, I was attracted by her policy of price per guide/car and not per tourist. I wanted to be all by myself and the guide with me since I do have the tendency to talk a lot and ask a lot of questions. I realized it would seem I was monopolizing the guide's time if I were part of a group. Anyways... after a few emails back and forth, we settled on my itinerary.

On the day I landed (at morning 7AM), I was received at the airport by a driver in her employ and when I reached the hotel, I met the guide for the day named Get. As earlier agreed with Tong, it would be a day of a "general tour" around Bangkok in the car itself. The guide Get took me around and I saw from the outside, places I would be seeing the insides of in the coming days. It was wonderful being with Get because she was able to answer all my questions and has a friendly nature. Lunch at the S&P near the grand palace was my first real introduction to Thai food and I loved every bit of it (not just the food but the whole script of how to order, how to use the utensils, the names of foods, the table etiquette etc.).

On Day 2, we had agreed on using public transportation. It was beter this way to avoid the legendary Bangkok traffic. The previous day, were stuck in traffic a few times. Get took me to the Grand Palace, Emerald Buddha, Wat Pho, Wat Arun, the Chatuchak Market and a floating market that has not yet been discovered by tourists. All were great places! At the floating market (not so much of floating going around), I sampled street food for the first time. Wow! What tastes and smells and sights and feel and sounds. All 5 senses were pleasurably assaulted and I knew that it would great days ahead (so thus my sixth sense was also activated :) ). Get was a blessing for me at Chatuchak or else I would have been lost!

On Day 3, again using public transportation, Get took me to Wat Benjamaphobit, Vivanmek mansion. I enjoyed the latter more than the former. We had started off the day at the flower market, Yaowarat and Phahurat. All were great places and I just indulged myself in the questions to Get and eating yummy fruits, stall food and finally dim sum and shark fin soup at Yaowarat.

On Day 4, since I would be going out of Bangkok to Kanchanaburi, Tong assigned me a driver cum guide named Charlie. What a guy! What a guide! What a day! While I highly recommend Get's service, Charlie was even more great! Here is a history buff who can really explain a lot to you. Not only that, he talks a lot (some people have previously complained he talks too much and that he has a strong accent), but not for me! I really enjoyed his company. Well actually, it worked both ways. I was saying soooo many jokes to him on the way, that he pleaded me to stop coz his eyes were watering up with laughing and he could not drive properly. He has such a great sense of humor that you never get bored with him. We first visited the train market. I couldnt spend as much time as I wanted to because of the tight schedule for the rest of the day. Damnasadouek floating market was next. Owing to my peculiar circumstances, I could not do much shopping in Bangkok, so just seeing the market around was the highlight of my visit there. We then visited the Tiger temple. What an experience! Not just being with the tigers but also making jokes about tigers and wild animals with Charlie ("Hey Tony! Now you go lie with tiger, but dont get her pregnant!"). He took me to a restaurant nearby and I had the opportunity to meet another one of Tong's guides named Nui. I had read much about her in the website reviews and by coincidence she was lunching with a tour group then.

I highly recommend the services of Get and Charlie. While both are knowledgeable, friendly and very supportive, each has their own special characteristics. Thank you Get, Charlie and Tong for what you did for me and making my stay in Bangkok a memorable one!

Tony Thomas
-------------------------------------------------------------------------------------------------------------------------------------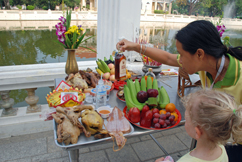 As we travelled with our 5 year old daughter, we decided to go to Ayutthaya from Bangkok by private car. Looking around in the www, I quickly found "Tour with Tong", recommended by many people. We contacted Tong just 1.5 day in advance and it worked perfectly well. In the morning, Pai, our guide was waiting in the lobby. We are German, but asked for an English speaking guide.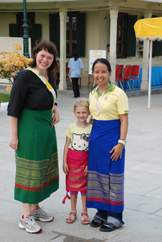 What a perfect surprise, as we and especially our little daughter found out, that Pai speaks a very good German, which Tong didn t told us in advance.
we really appreciate spending the day with Pai, who gave us deep inside not only into Thai history, but also in Thais everyday living. We went to a very nice local market project, had a perfect lunch in local restaurant not mentioning the beautiful summer palace and the impressive ruins of Ayutthaya!
For those interested in the hard facts. The car was in a perfect condition, the driver drove smoothly all day long and was a very polite, nice Mister. He even took care after our daughter, as she was exhausted from visiting temples, so that we had the chance to see even more of Ayutthaya.
In total: we spent a perfect day with "Tour with Tong"

Nicole Nehren
Frankfurt

-------------------------------------------------------------------------------------------------------------------------------------