There's so much I can say about Tong and our time with her on our honeymoon in Thailand. We were fortunate enough to be able to spend two days with her, but even that was not enough. After several e-mail conversations it was decided that she would pick us up at 6:30 a.m. at our hotel, the Peninsula. Sure enough, there she was waiting for us right outside the door ready for her welcome hug. She offered us a beverage of our choice (mine being coffee) and seeing that I was tired, offered me a pillow. Her car was clean and she made sure that we were comfortable with the temperature. We knew that our plan for the day consisted of going to a fishing village and then off to see the temples, but did not know that the whole car drive would be filled with helpful information and fun sights. Tong is incredibly knowledgeable and passionate about her country. She stopped on the side of the road to show us how the street vendors make sweet rice. It was delicious and I even got to make one myself!! When we arrived at the fishing village, we met the fisherman who was about to make our day AMAZING. We went out on his boat in the middle of nowhere and learned about the rules and regulations of such a village. Unexpectedly, we were taken to the oyster farm, where Tong and the fisherman picked fresh herbs and allowed us to eat the most spectacular fresh oysters we have ever had and probably will ever have. Afterwards, they took the boat over to the side of the land where the fisherman called wild monkeys. Hundreds of them!! Surprisingly, the last white monkey in Thailand showed up and ate fruit straight from our hands! The fisherman took us to his hut in the middle of the water where his daughter and her friends had prepared an amazing Thai lunch. After lunch, they brought out a cot and a pillow and let me lay down. It's as if they KNEW me.

As if that wasn't enough for one day, we continued our travels to the temples in Bangkok. As it started to rain, Tong quickly pulled out 3 umbrellas and we were on our way. Something I should mention: Tong is not just a tour guide, she is an expert on all things Thai, often making you emotional with how heartfelt she is in her sincere love for her country. She is also a FANTASTIC photographer.

The next morning Tong picked us up to take us to the Floating Markets. She knew exactly where we were going and what we were doing in a place that my husband and I certainly would have gotten lost in alone. We ate delicious food from vendors and were taken into the back canals of the markets to see the non-touristy side of things. On our way to the AMAZING Tiger Temple, we stopped at a wood working shop that had incredible artwork and gave us a good feel for what goes into making such pieces.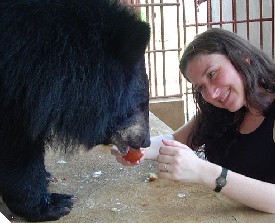 What to say about the Tiger Temple? I'm aware that many people don't like it and Tong made sure to explain that we could make our own opinions about it, but that she would try and show us a good time there. Yes, we went and took pictures with the tigers on our laps and did the usual, but it was what came after that was astounding. The Temple had a cub! Tong asked the monk to come out and let us play with the cub and I never wanted to let him go. We then went further on the grounds and found Bam Bam. Bam Bam, a sun bear, instantly made us fall in love with her. Sun bears are known for being ferocious. Bam Bam, however, is a teddy bear. Tong often refers to Bam Bam as her child as her love and devotion to her is amazing. Without Tong, the bear often does not eat or get attention. We fed her tons of food until she could barely move she was so full! It was the most surreal experience that we never could have had anywhere in the world and with anyone, but Tong.

As if that wasn't enough, we stopped at the River Kwai for some photo ops. Tong made sure we got every photo we wanted and knew exactly how to position the camera to get the newlywed couple and the background in perfectly.

I've had experiences in Thailand that I would NEVER had known about without experiencing them with her specifically. I got to see the touristy places as well and hear from an extremely intelligent, knowledgable woman what it was like to view it from the inside - from someone who highly respects her own culture and the culture of everyone to whom she has ever showed her country. My husband and I toured with her on our honeymoon and by the end of the trip it wasn't uncommon for me to hold her hand instead of his.

We will most certainly re-visit Thailand and if/when we do, we will be seeing Tong. I've made a friend for life.
Lauren Perotti