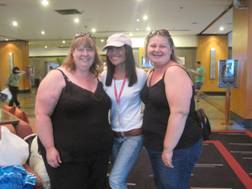 A trip to the land of smiles is a must, as is Tour with Tong.  Having never travelled overseas before, it was important to me to have someone who was familiar with their country as a guide.  One never imagined that the 5 days in Bangkok would have such a profound effect on me and create a burning desire to travel more in the future. 
The sun was shining,the breeze was blowing softly on occasion, and the temperature was very warm.  One could say, a perfect 5 days, puffy feet and all.
We arrived in Bangkok for the first time, only to discover that our tours with Tong had been organised for February, not January.  A typing error on my part in our final email communication.  Tong was amazing.  Despite immediate panic, Tong accommodated our planned day trips and allocated a different tour guide.    We will always be thankful to her for doing this for us, as we know how busy and in demand she is.
Whilst our day at the floating markets was postponed for another time due to poor health, the 2 days with Nang and Kung were 2 of the most exciting days in my life.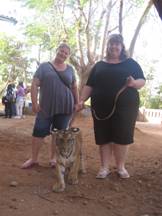 Nang took us to visit 3 orphanages, which was a real eye opener for me, as I work with children in Australia.  The first room of 20 little boys was lacking in activities, but all children were clean, as was their environment.  It provided me with the opportunity to use the universal language of music and movement to entice these children into play, if only for a portion of the day.  We blew bubbles that floated and landed on the children's smiling faces, leaving them a little bewildered in a delightful way.  After helping to feed the children lunch, they were moved quickly into their cots for sleep time.  We then moved on to visit the children at a local Kindergarten, who were just eating lunch at the time.  These children were busy saying prayers prior to devouring their yummy meal, and appeared happy and content under the guidance of their teacher and staff.  Finally, Nang took us to visit a group of teenagers and young adults with Cerebral Palsy.  It makes one realise just how lucky we are to be able to lead the life one does, while these young ladies lay in their cots for two, seemingly unaware of the world around them.  I was particularly taken with this group, having worked with children with CP in Australia.  If only for a fleeting visit, it was heart warming to hold hands, touch each others faces, and smile through relative silent conversations as these girls looked at you in adornment through the sides of their confinement. 
The following day we headed off at the crack of dawn with Kung for a busy day of Tigers and Elephants.  I had read many articles on the Tiger Temple and the drugging of these beautiful creatures; but there was no evidence of this to me.  These amazing animals were well kept, adored and cared for in an appropriate manner.  Perhaps those who attend an afternoon program would find these animals to be rather tired and exhausted, just as I was after participating in the full morning program.
Kung was an excellent guide.  Her gentle and kind manner makes you feel at ease immediately, and she's hilarious to say the least.  We headed for the Bridge over River Kwai first off for photos and although it wa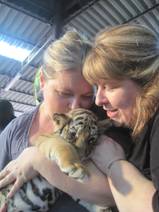 s a lengthy drive to get to the Tiger Temple, Kung kept us amusedconstantly. Oblivious to the Bangkok traffic, we took inthe amazing scenes around us, and listenedto Kung talk about religion, politics, history andherdesperate need for coffee.  It didn't really matter what she was talking about, it was the fact thatitwas coming from her that made it so interesting.
The morning tiger tour was well worth the money.  The experience is something I will never forget.  Beginning with making merit with the Monks, cuddling the baby tigers, feeding the tigers, playing with the tigers, bathing the tigers, and watching them put on a playful display with their keepers. 
We had lunch at a local Thai restaurant, which was scrumptious.  The Chicken Pad Thai was yummy.  We also stopped at a local fruit market, and purchased some bananas for the elephants, and the roadside monkeys.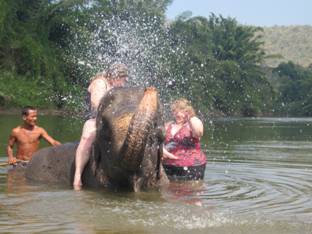 We then moved on to visit the Elephant Farm.  Full Moon was the elephant we had the pleasure of spending time with.  Her gentle and fun nature provided an experience like no other.  We walked together, bathed together, and played in the river together.  Kung took some amazing photos for us throughout the day, with her trigger-happy finger!
It was a long day, but well worth it. 
Our driver for the 2 days was Wit.  A quiet man, and an excellent driver.  Our car was spacious and clean, and Wit always made sure we had nice cold water to drink in the back of the car.
The only regret I have about my visit to Bangkok and my experiences with Nang and Kung, is that they had to end.
Tracey Manning
Aspendale Gardens, Australia