After breakfast we were discussing how we were going to get our suitcases to the reception to wait for Tong, as we had the last rooms at the end of a long wooden walkway and quite heavy bags. We heard her before we saw her laughing and screaming good morning she had the boat come right up to our rooms and moor on our decking and before we could do anything the suitcases were packed onto the boat and we were away to meet roger for our last day with them, she had even brought us all a little present from where she stayed.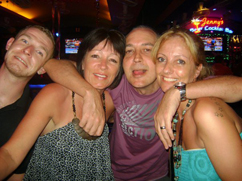 The last day we were taken to death railway and I must say some of the most breathtaking views I have ever seen, then it was onto the war cemetery, on the way Tong talked about all the soldiers and what they went through to build the bridge, how they died and everything about the war and the bridge, how this little lady has so much knowledge I just donít know, after the cemetery we went on to the bridge and had a lovely lunch at the restaurant overlooking the river, again Tong made sure we had enough to eat and drink, we only mentioned that back in England when we go to our local Thai Restaurant that we had this boiled egg dish with Thai spices and before we knew it a portion was on the table.After lunch it was time to return to our hotel, we had a four hour drive but with Tongs contagious laughter and joking the time flew by, we even stopped at a petrol station on the way were a little kitten had been abandoned , Tong could not leave him there so she asked the locals if she could take him home, and she has since emailed me photos of him sitting on her sofa looking very pleased with himself, all I can say is what a lucky cat to have an owner like Tong.When we got to our hotel we had more drama with them saying they were over booked and did not have rooms for us, well thank god for Tong again miraculously rooms were found.
After a very emotional farewell it was time to say goodbye to our new friend and all I can say is that Tong is one of the most amazing, beautifully spirited and unselfish person I have ever met, she made sure that we didnít want for anything throughout our whole time with her and I hope we have made a friend for life, we will most defiantly meet up with her again and if you get a chance to meet her I am sure it will also be the highlight of your holiday.
Theressa & Gary White
Cheri & Steven
February 2010
-------------------------------------------------------------------------------------------------------------------------------------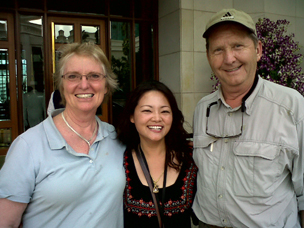 Dear Tong:
What a marvelous, amazing, unique day we enjoyed with you in Thailand. Your tours include places that other tours don't go, and that was a real treat.†The railway market was unbelievable, the floating market a must for Thailand, and the cockle/mussel/shrimp farms a one-of-a-kind experience. Feeding the monkeys on the banks of the estuary was memorable. I wish I'd had my grandchildren there. †They would have been ecstatic.†I do wish that we had known that it was going to be a "gourmet" tour in which you offered us incredible tastes and tidbits from the best of the markets. We should have skipped breakfast! I wish I had some recipes--especially the coconut puffs and those delicious noodles.
We learned so much about Thailand and culture from †talking to you and appreciated both your fine education and high energy in sharing your knowledge of this wonderful country. †It was clear that, everywhere we went, the people knew and loved you. It's because of your generosity of spirit and fun personality.
We are lucky to have heard about you, and will recommend you to all we know who visit Thailand.
Sincerely,
Kathleen & Garth Pickett
March 5, 2010
-------------------------------------------------------------------------------------------------------------------------------------