My experience with Tong was just incredible. She is what everyone says and more. Tong made our 3 days with her the best of the 22 days we spent in Asia . It has been several months since my trip and I cannot stop thinking about Thailand , the beautiful people/culture... oh and the FOOD! My fond memories stem from the fact we had the best tour guide to help us discover the true beauty and heart of Thailand . She is professional, funny, organized, caring, and all around the sweetest young lady you could ever meet.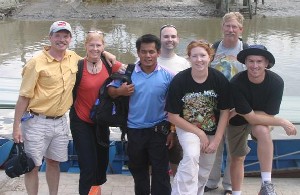 We did a city tour with her, a day to the floating market and tiger temple, and a visit to the fisherman's village. All of which were just amazing days. She works so hard to provide the best experience possible for her clients and even when she is tired her unbridled enthusiasm and energy continue to shine. Here optimistic personality was infectious and a joy to be around. The last day with her was tough for all of us because we knew our adventure in Thailand was going to end and we were going to have to leave a new friend behind. I will be back to Thailand some day and will definitely have Tong as my guide. You can read about our days with her May 7th, 8th, and 9th here www.rustyisler.com.
Ernie
USA
-------------------------------------------------------------------------------------------------------------------------------------
My husband and I went on a 16 night cruise from Thailand throughout Southeast Asia with two nights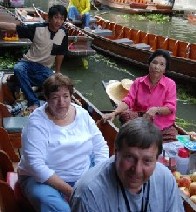 prior in Bangkok and 2 nights after in Beijing. We had many great tours and some okay ones but the one we both tell everyone about the most is our experience with Tong. We had FUN with Tong as tired as we were from the long, long flight coming from New Hampshire, USA . Tong is a vivacious young woman who spoke great English--took us to temples--floating market-temple of Tigers-elephant ride-Bridge on the River Kwai and we also fed wild monkeys from afar. She is well versed in all the places she took us as I know she is on the more conventional tours as well. We chose the more adventurous tour and we are so glad we did as none of the other tours provided us with this much fun. The transportation she provided us with was air conditioned and very comfortable and her driver very polite as well.We cannot say enough about her--if you are looking for someone to show you the highlights and enjoy yourself in the process--TONG IS THE ONE!If you have any questions please feel free to email me and I will answer them as best as possible.I do hope whenever it is your are going to Thailand that you will choose Tong as I know you will not regret it.
Teresa Gately
jtgately@comcast.net
-------------------------------------------------------------------------------------------------------------------------------------
My husband, Sean, and I just returned from our second trip to Thailand. We had researched the trip ahead of time and came across Tong's name and rave reviews on tripadvisor.com. I contacted Tong and she replied immediately. Even though it was several months in advance, she was booked for the dates we needed. She booked us with two associates, Tom and Nui for the two days we wanted. Having heard so many good things about Tong, we were uncertain how we would do with the other guides.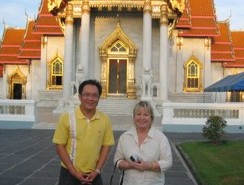 On the first day, Tom met us early and laid out the planned itinerary. They definitely listened to what we wanted to see and do, and made it happen. We went to the temples early to see people making merit (giving the monks food). Tom taught us how to do it by ourselves the next day, down to writing down the temple name for the taxi driver we would need. We were even able to buy turtles to release after receiving the monks blessings. Then we were off to the floating market. Tom whisked us through the crowds and we had a memorable boat ride, sampling food (great coconut pancakes, fried bananas and a bowl of Thai soup for breakfast) and buying souvenirs along the way. In the afternoon we were at the secret fishing village. What a memorable experience! We rode the boat and saw the various fishing methods and then experienced a seafood banquet prepared just for the two of us! Far away from other tourists, we truly felt special.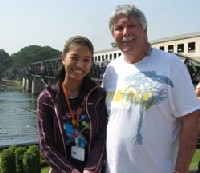 On the day we were scheduled with Nui, she took us to the War Memorial and Kwai River Bridge. We then went to the Elephant Park and rode an elephant. Finally the Tiger Temple. At each stop, Nui navigated us to just the right location and instructed us so that we came home with unbelievable photos and memories. The Tiger Temple was beyond our expectations, and we were impressed with the monks and their care for the animals in the sanctuary. On the way back to town, Nui stopped and got my husband's favorite fruit (pomelo) and enough for our breakfast the following morning. With just minutes to spare before closing, she got me to a reputable jewelry store so I could finally buy the "memento" I wanted.
My husband and I have traveled quite a bit but Nui and Tom are at the top of the list as far as guides in far-off places go. They truly went the extra step (mile) to make sure our time in Thailand would be unforgettable. Many thanks to you both!
Sean and Claudia Quinn
San Bruno, CA
claudiaquinn@sbcglobal.net