We were lucky enough to have been made aware of Tongs tour guides prior to our recent trip to Thailand. Being out first time to Bangkok, we really wanted to make sure we made the most of our time and got to see the true Thailand and meet real people. To do so the only way is with an experienced guide who can explain all the things that you cant get from any book.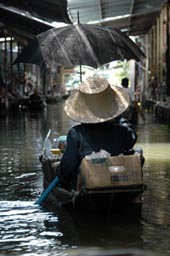 We were fortunate enough to be able to secure Tongs services for the day. Our only request was that we wanted to see the Maeklong train market and the Damnoen Saduak floating market. The rest of our day was left in her experienced hands.

All I can say is do not miss out on getting yourself a guide through Tong. We had the most amazing day of our 16 days in Thailand, which included Chiang Mai and Phuket.

Tongs warm personality, infectious laughter and great sense of humour made the day our most memorable for the entire trip - and we did a lot. A tour with Tong or one of her experienced guides is not like any guide I have experienced before. It is more like being shown around the hometown of a friend you have known for 20 years. Tongs knowledge of the areas we visited as well as her insights into real Thai life were undoubtedly, the highlight of our trip.

We only got to scratch the surface of the area in and around Bangkok as there is so much to do. We will defintely be returning to Bangkok and will be seeing a lot more with our newest dear friend Tong. We cannot recommend Tongs business enough. If you are going to Thailand I would consider it essential that you take at least one day with Tong to understand just how great her services are and what a massive difference it can make to your Thailand experience.

Paul Ellis
Australia
ello10@optusnet.com.au
-------------------------------------------------------------------------------------------------------------------------------------
My partner Rick and I only had a couple of days in Bangkok , so after a lot of research we chose to Tour with Tong. Her name just kept coming up as highly recommended.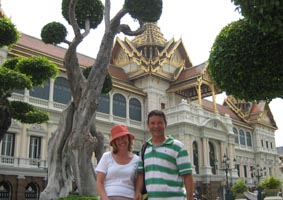 This was the first time I had ever hired a guide, so I was a little apprehensive.
Our guide Kung was just fantastic. She is a lovely natured person with a great sense of humour.
Kung was very informative and always looking for ways to keep us amused through the day.
We visited the Railway Markets first and we both agreed this was our favourite visit as it was a very unusual and interesting place to visit. We also visited the floating markets and the Palace on the way back. We were keen to see the Tiger Temple but felt we could not fit it all in one day and we were quite exhausted by the time we got back to our hotel.
We felt very safe with our driver and the vehicle we had was outstanding. Kung always made sure we were comfortable, fed and watered well!
We are constantly recommending Tong to anyone we hear of that is heading to Bangkok and we would definitely book again with her if we are ever in Bangkok again.
Thank you to Kung and Tong for a visit we will always remember fondly.
Vicki & Rick
Perth , Western Australia
March 2009