My husband and I spent one day with Tong in November 2007. Tong met us at our hotel bright and early that morning and took us to the original floating market, which was amazing fun with spectacular food!!! We then went on to visit a local temple with ornate and very beautiful wood carvings. We also visited a wood carving factory with the most amazing work going on all around us as well as a ceramic painting workshop, with the most intricate skill and detail that you'll ever see. Tong drove us on to Kanchanaburi where we were able to pay our respects at the war cemetery as well as at the bridge over the river Kwai....also managing a stop off for some emergency shoes!!! lol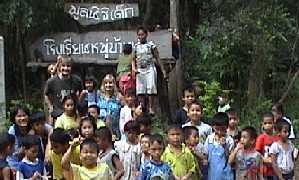 Our final destination of the day was Moo Baan Dek, a local orphanage that we had wanted to visit and were able to arrange through Tong. We bought the kids lunch and ice cream (prior arranged by Tong) as well as spent lots of time enjoying the kids company and being shown around their village and school that they were most proud of. That day was one of the most amazing days of my life and we will never forget the kids that we met as well as the vast amount of knowledge and warmth that Tong shared with us.
We hope to go back to Thailand in a couple of years time and hope to meet back up with Tong and revisit Moo Baan Dek. For anybody that does not want to be herded around like cattle and share experiences with millions of other tourists on a bus, a trip with Tong is a MUST!! You will be taken to places off the beaten track and get to experience parts of Thailand that you might not get to see if you weren't with Tong.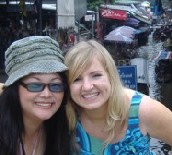 We had the most amazing and fun day, which was all down to Tong and I'm so glad we found her!!! Although, I'm sure Tong won't feel the same as we were with her 14 hours and I still don't know how she stayed awake on the 3 hour drive back to bangkok!!!
Thank you Tong for a very special day! ....Next time it will be for much longer!!! lol'
Nikki & Stephen McGuffie, 21st November 2007 
nikki.mcguffie@hotmail.com
-------------------------------------------------------------------------------------------------------------------------------------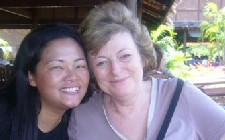 My husband & I were very fortunate to be able to book  Tong for a very long, all-day tour out of Bangkok in August 2006. Early in the morning we were greeted in our Hotel lobby by a beaming Tong, fresh and ready to tackle the day. Our first stop was to be the Damansuek Floating Market and even though we have visited there before, many year's ago, the experience last time was nothing to compare with this visit all due to Tong's bubbly personality and knowledge.  We got to taste delicious things from the sellers that we just would never have tried if we were on our own. We absolutely loved the Floating Markets.
We also paid a very quick visit to a beautiful Porcelain factory and saw the girls painting the products, then we visited a beautiful temple which was ornately carved completely on the insides, even the ceiling.
At lunch time we reached the Bridge on the River Kwai, where we enjoyed a delicious lunch overlooking the River and got to walk along the bridge taking more great photos. Luckily Tong thinks of everything - she had cool towels and drinks to keep us comfortable and even has umbrellas in her car, to keep the beating sun off of you.
Our final destination in the afternoon was the Tiger Temple...we had been waiting to see this for so long and it was an amazing feeling, kind of surreal, to be walking alongside these huge Cats, as we accompanied them down to the canyon where we had so many amazing photos taken with them - it's a feeling you can never forget.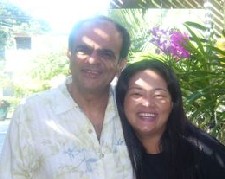 By this time it was late afternoon and we were really feeling the extreme heat, so, time for the long drive back. I can really say I am amazed at Tong's level of enthusiasm at all times- it never wavers- she pays special attention to detail, is attentive and kind and funny and talkative and tries beyond the call of duty, to give her guests the best time possible on her tours, and she succeeds, 100%.
Good luck and success to Tong- she really deserves it.  
Marilyn and Joe Elisha
Melbourne, Australia