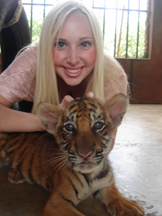 "Our tour with Kung was AMAZING, now that I am back in Sydney I am still raving about it to all my friends. This was my fiance and my first trip to Thailand and our first stop was Bangkok, and although we spent 4 nights in Bangkok, our day touring with Kung was by far the best day we had on our entire trip.

We decided to do the Floating markets, Tiger Temple and Elephant Bath on the same day. Kung's knowledge and enthusiasm are second to none, and despite having travelled quite a bit throughout the world, she was the best tour guide we have ever had! She works extremely hard to please clients and went above and beyond what we were expecting on the day. Although our day was quite long, it was extremely exciting and was broken up with interesting stops along the way such as the train markets.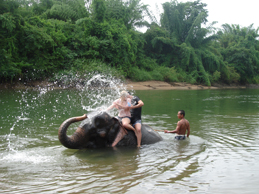 I have to admit that although I was most looking forward to the Tiger Temple, which is really quite mind blowing, the elephant bath was the absolute highlight of our trip to Thailand!!! This really must be experienced to be believed. Our elephant "FullMoon" was so much fun and so intelligent, we had such a great time with her during our tour.

If you get the chance to go to Bangkok, make sure you look nowhere else...Tours with Tong really is THE BEST!!!

Thankyou Kung and Tong for a magical experience and an unforgettable day".

Sabina Klaime

------------------------------------------------------------------------------------------------------------------------------------
What a wonderful couple of days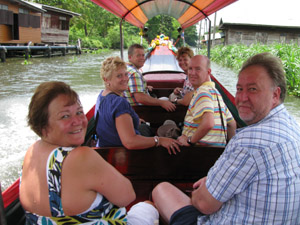 Guide Nina was the perfect person to show us around Bangkok. She is happy, very enthusiastic, extremely friendly and of course knowledgeable. She immediately made us feel comfortable to have her in our party of 6.
We spent a morning exploring the grand palace and temples followed by a long tail boat ride around the canals of Bangkok before visiting Wat Pho to see the amazing reclining Buddah. Nina gave us just the right amount of information to keep our interest without becoming boring (like some other guides we have had) She showed us around the flower market too pointing out all the unfamiliar fruits and vegetables that we saw along the way.
On the 2nd day we visited the floating market. Nina also stopped to show us a train market which is well worth seeing. She also helped us to negotiate prices for anything we wanted to buy. It kind of took the stress away from bartaring as we felt confident that a price that was acceptable to both us and the seller had been reached without anyone feeling ripped off.
A wonderful air conditioned comfortable vehicle was provided each time we needed it which we used for a very reasonable priced airport transfer too.
I cant recommend Tong as a tour guide agency highly enough. It was our 2nd trip and the 2nd time we used her. Last time we had a guide called Tom who was also excellent.
It goes without saying that English was spoken and understood to a very high standard
Thank you so much for a marvellous couple of days
Karen Frost