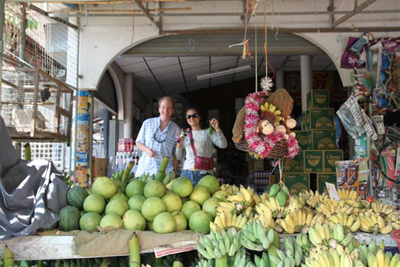 I discovered "Tour With Tong" by doing a bit of surfing here at Trip Advisor. I liked seeing the great number of very positive reviews & frankly the choice of tours appealed to me.
 So I e mailed Tong and very quickly received a reply.  After deciding what type of tour I wanted (fishing village) I confirmed this to her.  She asked for a deposit through Paypal which was easy to do.
 Also, I did choose this tour for myself only.  I didn't want to be affected by anyone else and so wanted the tour guide all to myself.
 A day b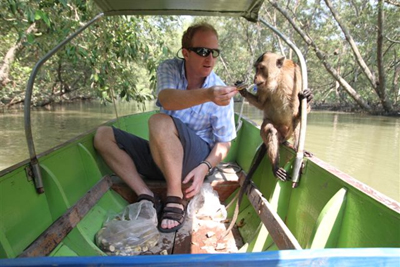 efore the actual tour I e mailed Tong and she quickly confirmed all was in order & that my Guide "Lilly" would contact me soon.  I had gotten a Bangkok SIM chip so she now had my number.  Not 10 minutes later & Lilly was on the phone & confirmed a pick up at the Hotel for 11:00.Lilly was waiting at the Lobby a few minutes before 11:00 which was immediately appreciated.  The second I saw/spoke to Lilly I knew this was going to be an awesome day.  Simply put, she is a DOLL.
She asked us to wait and went to get her car.  A brand new Mitsubishi 4 x 4 which was great.  She is adorable and a great attitude. From the moment we were picked up at the Hotel and through the hour + of driving, she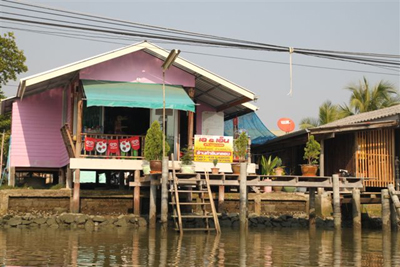 chatted away with us and she has a great sense of humor.  Also, during our drive, the second Lilly noticed I was interested in snapping a picture of something, she slowed down and once even stopped to allow me to get out of the car.
 Since Monkeys are also part of this tour, I had to decide how much I wanted to spend on Bananas.  I chose 300 Baht.  Soon after, Lilly arrived at a small "store" for lack of a better word and quite a few very large bags of bananas were loaded into the car for us.   We then continued on our journey to where we would park and get on the boat.
 We arrived at a small house/restaurant area by the water and that was where our boat & tour were going to leave from. Lilly gave me a pair of "Fisherman Shorts" to change into.  So that mine don't get dirty..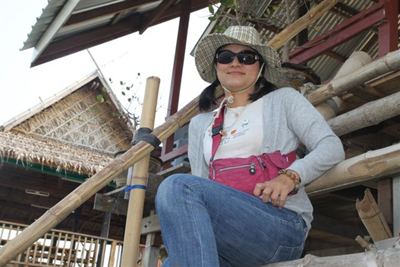 I ended up buying them as a souvenir.
 Soon after we got into the boat & a very sweet Lady was at the helm. Great pace and lots to see as we headed to the mangroves.  Upon arrival there, the boat driver slowed down to a crawl and killed the engines. Lilly then used her whistle & before you know it there were monkeys !!  I mean LOTS of monkeys.  We started throwing bananas towards them and it was a whole lot of fun.  One Monkey actually climbed on board the boat and sat next to me.. easier for him to eat.  I was beyond nervous & Lilly just smiled & told me to enjoy myself.. I did.
A few more swam towards the boat very closely but I made it very clear that I didn't want anymore monkeys on the boat.  The boat driver took care of that by moving the boat away. We did that for a while and it was quite a lot of fun.  300 Baht buys you a lot of bananas so there was a lot of feeding to do.
 From there, we proceeded to a quiet area where I got off the boat and planted some mangrove plants. It was 10 baht per each plant and I felt great doing it.  Lilly warned me that its almost like "quick sand" ..but mad instead.  You sink very quickly but this frankly was my favorite part.  I then came back to the boat & the Driver washed me all up.
 Back on the boat to what was at least another 45 minutes of very fun & interesting boat ride. Through deeper waters & areas where the tide simply left nothing bud mud.  The driver took the boat through the mud.. very very cool.
 Finally, lunch.  A beautiful Thai meal and Lilly made sure all was o.k. and even peeled some of the shrimps while the cook took apart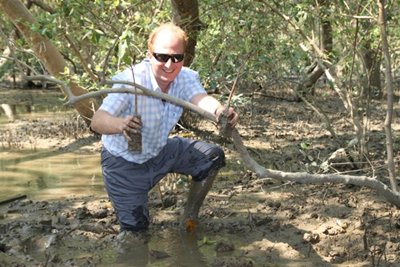 the crabs.  I ate like a king & soon after headed back to boat and back to base camp. Soon after… got a nice ice cream and Lilly was driving us back & to the front door of the Hotel. Simply, a GREAT DAY with a great & pleasant guide. I am sorry if this review is long, but I wanted to share as much as possible with you.I have also uploaded some pictures which will give you a great idea of what to expect.Last but not least.  Folks, we travel a great long way to beautiful Thailand. The people who work for Thong were great & typical "sweet & pleasant" Thai people.  Please don't forget how hard they work to give us all a very pleasant experience.. please tip them well.  I say this because I saw a group of folks who didn't and it bothered me.  An extra $30-40 spread over 3-4 people at the end of the day is a very small price to pay.  Thank you for reading and if you have any questions(s). Please feel free to e mail me.I will be back in Thailand next January & 10000% Lilly will be my guide again for another great tour.
 Krap khun mak krap Khun Tong.
Shawn Shamgar
January 2011.