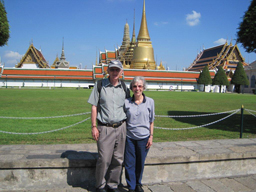 We were in Bangkok for 2 short days on a cruise ship. We had heard great things about Tong, but she was already booked with another group from our ship so we had Kung as our guide. She was an absolute delight. The ship had changed our itinerary and we didn't have as much time in Bangkok as we had hoped. Kung was able to fit in everything we wanted to see. We met her at 2 p.m. and we went to the Grand Palace and Wat Pho. Her knowledge of the attractions was great. We then had a boat ride through the canals and also went to the Suan Lum Night Bazaar.
The next morning she met us at 7 and we drove to the floating market. On the way we stopped at the salt plains. It was an interesting drive through the countryside. The floating market was a colorful beehive of activity. She had our boat go further up the river where the tourists usually don't go to see how the people live.
We were very pleased that Kung was able to fit in the things we wanted to see in the amount of time we had. We felt fortunate to have her as our guide. She is full of knowledge of the culture, has a great sense of humor, and is so much fun to be with.
Dick and Bev Boyle
Tigard, Oregon
-------------------------------------------------------------------------------------------------------------------------------------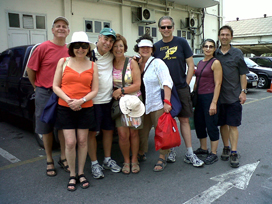 We were 4 couples from Canada and we booked Tong for 2 days in Bangkok while on the Azamara Quest on January 26 and 27. I made the arrangements for our tours. My friend recommended Tong as the only choice and I trust her judgment. Tong was the tour. There is no point going to Bangkok if you can't book Tong. She is very knowledgeable, organized, funny, clever and approachable. She is constantly focussed on her role as your guide - she will keep you informed and will try to fit in the most number of sites to see given the traffic and your energy level. When I think of Tong I just envision the Everready bunny - constantly moving forward and never slowing down - and she is a lot better looking than the silly bunny.

-------------------------------------------------------------------------------------------------------------------------------------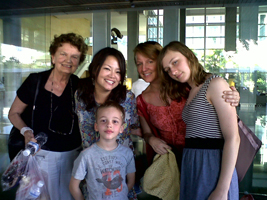 Our family of 5 (my husband and I, our children ages 7 and 11, and my 70 year old mother) spent almost two weeks in Tokyo and Bangkok and by far, our very best day was with Tong on her floating market and fishing village tour. Really, it is hard to describe without using superlative after superlative. It was one of those days that not one of us will ever forget - from the unbelievable food we bought from the boats on the canals at the floating market (where there wasn't a tourist in sight), to the excitement of the railroad market, to feeding wild monkeys and having lunch at a fisherman's house on the Bay of Bangkok - really just amazing.  We also had another guide of Tong's (Pock) give us a tour of the major sites in Bangkok and she too was wonderful.  It was clear very quickly to us that Tong could expand her business exponentially and make quite a nice living for herself.  But though she would lose some quality in the process, frankly, most people would be none the wiser.  But that just isn't who she is.  She genuinely cares about the experience you have with her and takes her responsibility as a ambassador for Thailand very seriously.  She has set the bar so high for any other guide in any other country.  We just think the world of her and her company!
Andrea Link

------------------------------------------------------------------------------------------------------------------------------------