Tiger Temple

Wat Pa Luangta Bua Yannasampanno was established by the Abbot PhraAcharn Phusit (Chan) Kanthitharo in 1994 by order of his teacher, Venerable Luangta Maha Bua Yannasampanno (the highly respected and famous meditation guru). The name of the monastery was also given by the Venerable Luangta Maha Bua to follow his full name.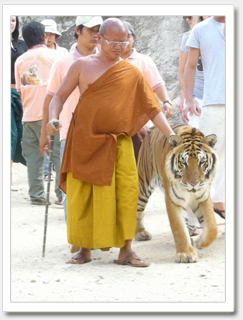 Since its opening Wat Pa Luangta Bua gained a reputation as a wildlife sanctuary. It started with an injured jungle fowl given to the monk by the villagers.  Then peacocks came attracted by the calls of by then rather large colony of jungle fowl. An injured wild boar stumbled in to the monastery and the monks cared for him until he could be released back into the forest.
The next day he came back followed by his family group of about 10 animals.  Now a countless number of wild boars find shelter the monastery.  Villagers also started to bring in unwanted pets: four species of deer moved in, followed by buffalo, cow, horses and wild goats. All these animals are roaming the grounds of the monastery freely.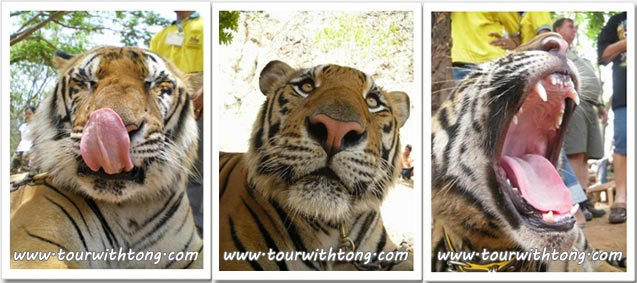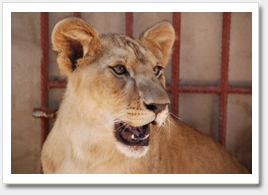 The first tiger cub arrived in the monastery in February 1999.  It was a female cub of Indochinese tiger subspecies(Panthera tigris corbetti) and her condition was very poor. When she was only a few months old, her mother was killed by poachers near the Thai – Burma border. The cub was sold to a wealthy Bangkok resident who ordered her stuffed.  A local was hired to do the job, which fortunately he did not finish. And though he injected her in the neck with preservative formalin, the cub survived. When she arrived to the monastery she was frail and terrified of the slightest sound. Under the loving care of the monks the cub recovered but in July 1999 she fell seriously ill and died. People who knew about the incident did not want to see another cub mistreated again. However, it was not to be.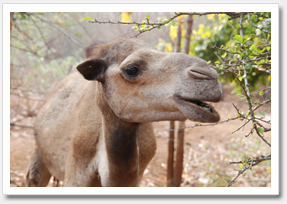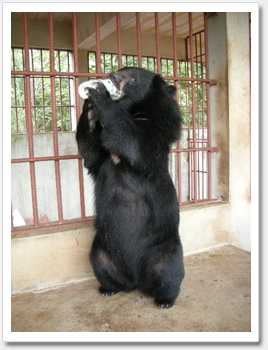 The monastery is situated in Kanchanaburi province - an area lying adjacent toBurma.  The Western Forest Complex that stretches along the boarderis the largest protected area in Asia and believed to be the home of the largest surviving tiger population in the region.  Unfortunately, while this area is protected poaching still occurs rather frequently.  A Thai poacher can get up to US $5,800 for killing a tiger, several years' salary for a farmer. The profit is well worth the risk. And when the mother tiger is killed, the cubs are taken as a bonus or left to fend for themselves in the jungle.
Just a few week safter the first cub has died, two healthy male cubs intercepted from the poachers were brought to the monastery. They were tiny – just a few weeks old. A few months later the local villagers presented another two male cubs. And soon after the border police patrol intercepted cubs held by poachers and contributed four female cubs, achieving tiger harmony.
The Abbot welcomed the animals and as he had no previous experience in looking after large carnivores he had to learn on the job. At first he build some concrete pans – all he could afford, to house the growing cubs in order to prevent them from killing other temple's animals.
As the years went by the tigers grew up and to Abbot's surprise and delight started to reproduce. However, as the tiger family grew the Abbot became faced with the need to create more living space for his charges. As early as in 2003 the Abbot conceived an ambitious plan to create a large open airenclosure where each tiger would be given 1 rai of land. He sat the land aside and construction began.
Meditation Practice
The forest monastery focuses on practicing meditation. There is accommodation for those who are interested in meditation, and wish to stay within the temple. The interested people have to dress everyday in polite white clothing. Woman should stay in a group (with at least one man within that group, for the purpose of communication with the monks ).
(References : Tiger Temple Foundation)


Available programs at the Tiger Temple
   A visit to the tiger temple solely still takes a full day considering the time of traveling, around a few hours each way from/to Bangkok. We highly suggest you to mix it with some other sites along the way or in the area to make the trip not too boring.
   Before booking the Tiger Temple tour, you will have to make sure of which program you want to attend.
   ● Normal Afternoon Program (Noon – 4 pm.)
       Admission Fee : 600 baht/pax.
No exception for a child/an infant.
       
Countless tourists attend this program regularly. Many photo opportunities with tigers are available but mainly are with chained tigers to keep them well-behaved. Some tigers are drowsy after exercised and being fed during this afternoon causing frequently asked questions if they are drugged? The point is there's a slight opportunity for people who get there the right time will get to see them wide awake, which our team made aware of this all along for years, That's why we always make sure that our clients will have that "chance" to see it for themselves, so the reflection of their experiences won't be based on paying a short visit mixed with what they are told, but are from their own perspectives after seen it thoroughly.
    Other options are also available during this afternoon program, which offer you a chance to get more personal touches with the tigers than what they offer in the normal program. There's extra cost on top of admission fee previously paid.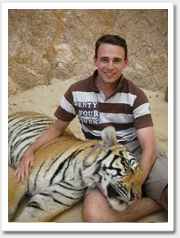 - Special Photo : 1,000 baht/pax or per family.
Sitting next to the tigers and have normal photos taken available at no additional charges.
But if you wanted to feel how heavy the tiger's head is, you can opt for the special photo with the tiger's head in your lap. Some souvenirs are also provided for this option. A family photo is allowed at limited number of people but the tiger's head will be put in one's lap. Not all the family members' laps.
- Cub Feeding Program : 1,000 baht/pax.

You will spend 45 minutes with the tiger cubs (different sizes depending on their ages at that time). More photo opportunities and personal touches with the tiger cubs. Playing and Bottled milk feeding (just for some tiger cubs) under the care of volunteers and Thai staffs. There are 4 sections per day at 12:45pm/1:30pm/2:15pm/3pm. Only a number of tourists are accepted in each section depending on the conditions and numbers of the tiger cubs at that time.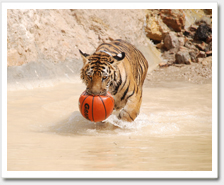 - Evening Exercise Program : 500 baht/pax.
After napping in the afternoon, tourists will get a chance to see unchained tigers doing their exercise in the canyon before walking back to their cages after most of the crowds gone. There's only one section available at 4 pm.-4.30 pm.
Special Note : Since this program is available only in the afternoon, tourists can choose to mix it with other sites like the floating market or Waterfalls or Elephant village as well as WWII sites in Kanchanaburi. But we don't recommend to mix it with any sites in Bangkok as you won't get to the tiger temple the best time.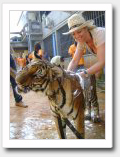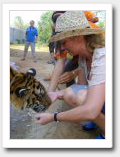 ● VIP Morning Program (7.30 am - 11 am.)
     Admission Fee : 5,000 baht/pax.
No exception for a child/an infant.
Truly once-in-a-lifetime experience that you won't get itanywhere else in the world. This breathtaking program will offer you a chance to discover the answers for all the doubts you may have and to learn more about Buddhism which leads these tigers become a part of the monk's life.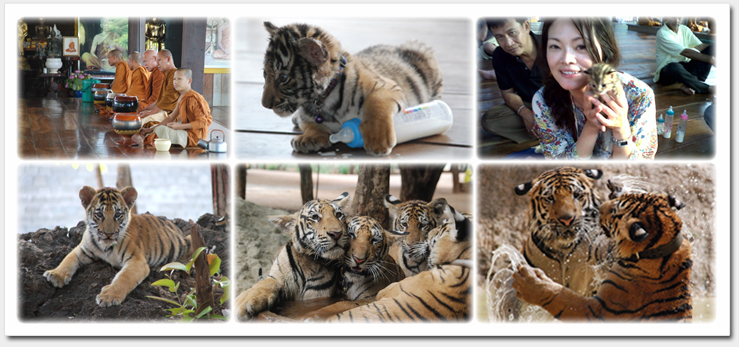 What will you get to do from this morning program?
       - Giving Monks food. Get blessed by the monks. (Food given to the monk is upon donation)
       - Playing and Bottled feeding the tiger cubs.
       - Walking leisurely with the young tigers.
       - Exercising with the young tigers "unchained" in the small waterfall and playground.
       - Giving the tigers a bath.
       - Hand feeding the tigers with cooked chicken.
       - Walking privately with the large tiger.
       - Watching the "unchained" tigers exercise.
       - Having special photos taken with the tiger's head in your lap. (Only one who comes back in the afternoon at no extra cost for admission fee)
Special Note : This program is available only in the morning, You will have to get ready and be picked up at 5 am in Bangkok area. It's impossible to mix this program with the floating market. But you can mix it with WWII sites or elephant village if you're energetic enough.
Remarks:
***The prices mentioned are just for what the tiger temple charges. Our service charge is exclusive.

***Prices for our service charges on this program are varied upon request.  After decision made on which program you want to attend and what sites to include with the tiger temple, Please e-mail us for more information.
*** You may look for some suggested itineraries provided on our website to get an idea of what you want to experience before/after the tiger temple.
*** Dress codes or other tips on the tiger temple visit are suggested on
http://www.tourwithtong.com/tigertempletips.htm