The Grand Palace & The Royal Temple of The Emerald Buddha
The Grand Palace, the must see of all 1st time visitors, is an eye-opening experience which all Thais proudly present. You will be amazed with various architectural construction, creatively built with the power of Thais faith and beliefs dedicated for the Kings & Royal Family & Buddhism.
The contruction began in 1782, during the reign of King Rama I of Chakri Dynesty and continuously built and renovated in many reigns, covering an area of 218,400 square meters, 1,900 meters long for the walls, consisting of 4 large groups of buildings serving different royal functions. Inside located the Royal Temple of The Emerald Buddha, the most sacred Buddha Image in Thailand.
After King Rama VIII 's death, King IX moved the official royal residence to Chitralada Palace, The complex now is served for royal ceremonies and religious purposes. No residence for the monks.

Opening ticket hrs : 8:30 – 15:30  daily.
Admission fee : 500 baht/pax.

Note : - Proper dress is strictly required. Please read www.tourwithtong.com/tourtips.htm
           - Audio guides and tour guides are available for hire.
           - Photo/Video/Drinks are not allowed inside the main buildings.
..................................................................................................................
Wat Pho
Wat Pho ,is situated right next to the Grand Palace near Tha Tien Pier. It was built in late Ayutthaya period, originally called Wat Photharam, mainly renovated by King Rama I and King Rama III. It is also assumed as the first university of Thailand as all the treasures and sciences of knowledges were gathered and shown in various styles, scattering with numerous chedis. Its Vihara houses an impressive gigantic Reclining Buddha, 46 meters long and 15 meters high, The soles are inlaid with mother of Pearl elaborately depicting 108 auspicious signs in Buddhism.The main chapel houses a beautiful Buddha image where the ashes of King Rama I was enshrined under. It is considered King Rama I 's royal temple.
Wat Pho is world-wide known as the best place to get a Thai traditional massage. Many masseurs and masseuses graduated from its school are qualified and run massage & spa businesses all over Thailand or some other parts of the world. No exception for foreigners interested could apply to study in English.
Wat Pho now is also open at night for more tranquil experiences in beautifully lit up atmosphere, a great opportunity for photographer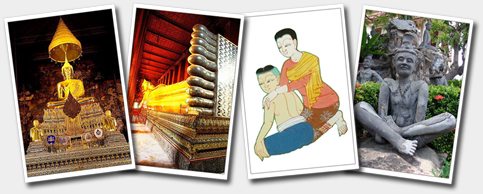 Opening hrs : 8:30 – 17:00 daily. 
Admission fee : 100 baht/pax.
Note : - Proper tops covering your shoulders are required.
           - Photo/Video/Drinks are mainly allowed inside the main buildings.
           - Tour guides are available for hire.
Wat Arun

Wat Arun, a landmark on the west bank of Chao Phraya River, is opposite to Wat Pho and diagonally opposite to the Grand Palace It is best known for a porcelain encrusted 79 meters high Prang, sparkling in the sun. One of the best views of sunset for photographers.

The temple was actually built in Ayutthaya period, originally named Wat Makok. The name was later changed to be the temple of Dawn when Phraya Tak who later became King Taksin the Great in Thonburi Period (1767 -1782) moved the capital from Ayutthaya, crusing along the Chao Phraya River and arrived the temple at dawn.

He established the Royal Palace there, so Wat Arun was served as the temple in the Royal Palace in Thonburi Period and It was the place where the sacred Emerald Buddha used to be enshrined. No residence for the monks at that time. Until King Rama I of Chakri dynasty moved the capital to the Eastern bank of chaophraya river in 1782. Wat Arun is now served as the 1st class of the royal temple where the monks are living in.

Opening hrs : 8:30 – 17:30 daily.
Admission fee : 50 baht/pax.

Note : The main chapel is open occasionally.
Wat Trimitr
Wat Trimitr, previously called "Wat Samjeentai", this small temple was built by three Chinese comrades around 150 years ago. It was restored in 1937 and granted the official name of Wat Trimitwitthayaramworaviharn or known as the Golden Buddha Temple.

The main attraction of the temple is the largest Golden Buddha in the world named "Phra Sukhothaitrimitr", a puzzling Buddha image 3 meters tall in the subduing Mara Positon, made of Solid Gold of 5.5 tons, was believed that he was built around 700 years ago in Sukhothai Period. It was once covered with ordinary stucco housed in Wat Phrayakri, until it fell from a crane while being moved to a new building and the gold inside was revealed. Saying that the covering was a means of protecting it from the Burmese while the capital of Ayutthaya was under siege. What is most amazing is the Buddha was separated into 9 different pieces, people who found them intuitively knew how to put them together as though those who had separated them initially were instructing them!
The Golden Buddha has been moved to the new marble Vihara, built from Thais and foreigners' donation, since the beginning of 2010.
If you wanted to tour in detail, there's also an informative museum explaining the history of Chinese who came to settle down in Thailand and became an important part for the growth of Thai's economy.
Opening hrs : 8:00 – 17:00 daily.
Admission fee : Golden Buddha only = 40 baht/pax.
                        Golden Buddha & Museum = 140 baht/pax
Note : - Proper dress is suggested.
       - Lots of steps to climb up. Not comfortable for one with
wheel-chair.
Vimanmek Mansion
Vimanmek Mansion , Inspired by King Rama V's Europe visit, it was dismantled and rebuilt in Dusit Garden in 1900 by the royal command of King Rama V (1868-1910), known as the largest golden teakwood mansion in the world, completed in March 27, 1901. He moved from the Grand Palace to stay here permanently for 5 years, waiting for the completion of Amporn Satan Residence in 1906, where he then moved to live there until his death in 1910. After his death, the royal family had to move back to stay in the Grand Palace.
Until King VI (1910-1925) gave permission to Her Majesty Indharasaksaji to stay at the Vimanmek Mansion and she later moved to stay in Suan Hong Compound, the north of Vimanmek Mansion after the King's death. Vimanmek Mansion was closed. It was later renovated by King Rama VII several times, however, in 1932, it was used only as a storage of the Bureau of the Royal Household.
Vimanmek Mansion became alive again when Her Majesty Queen Sirikit asked permission of King Rama IX to renovate this mansion to commemorate King Rama V, his grand father, in occasion of Bangkok's Bicentennial Anniversary in 1982. Besides Vimanmek Mansion and Amporn  Satarn Residence, King Rama V allocated plots of land for building his consorts, princesses, and other wives' residences. This gives the visitors a chance to view such beautiful and unique handicrafts, basketery, neillowares, silverwares, ceramics, thai silk, ancient clocks etc.

Opening hrs :   8:30 – 16:30  daily.
Closed : National Holidays.
Admission fee : 100 baht/pax. The tickets bought at the Grand Palace could be used to visit Vimanmek Mansion and the old parliament  for free.
Note : - Proper dress is required as strict as the Grand Palace. Please read www.tourwithtong.com/tourtips.php for a guideline.
         - Photo/Video/cell phone are not allowed inside the buildings.
         - You can rent the locker for your cameras and cell phone at 20 baht per locker.
         - Free tour is available both in Thai and in English at specific time.
The Jim Thompson House

The Jim Thompson House, is the home of James Harrison Wilson or Jim Thompson, known as the King of Thai Silk, was born in Greenville, Delaware, in 1906. Although he had a keen interest in art, he chose to become a practicing architect in New York City until 1940. When the war in Europe became more violent, he volunteered for service in the United States Army, an important turning point in his life. He was assigned to the Office of Strategic Services (OSS), forerunner of the Central Intelligence Agency (CIA), a move which offered him an opportunity to see more of the world. During WWII, he had a chance to work in North Africa, Italy, France and Asia. He finally decided to settle down in Thailand permanently and founded the renowned Jim Thompson Thai Silk Company. He then was awarded the Order of the White Elephant, a decoration bestowed upon foreigners for having rendered exceptional service to Thailand. His success story has become one of the most popular postwar legends of Asia. His achievements during his 25 year stay have won him much fame as the "Legendary American of Thailand"
Fascinated with Thai arts, he bought five Thai houses from Ayutthaya and one from Bankruanua, then combined them to 6 twin Thai Traditional houses, completed in 1959. They were decorated with value antiques and artifacts among perennial plants near Klong Saensap.
In1967 Jim Thomson and his friends had vacation at Cameron High land in Malaysia. He mysteriously disappeared while he was trekking, left only legends and heritages for the people behind. You can visit his house and buy some silk souvenirs on Soi Kasemsan 2, Rama I Rd. Opposite the National Stadium.

Opening hrs :  9:00 – 17: 00 daily
Admission Fee  : Adult  =  100 baht/pax
                          Student = 50 baht/pax.

Note : - Compulsory guided tours available in many languages.
           - No photos around on the 2nd floor of the house.