Elephant Bath

One of the gentlest creatures in the world…
Thai elephants were considered sacred animals in the ancient time. Their ancestors and ours have a very beautiful relationship together especially during the wars. Only the death could make them come apart..

Time passed..…things changed…

We don't use elephants in the wars anymore.. Their importance has been reduced…Elephant were routinely used in a labor job.. like pulling the logs, became the "prey" of some greedy businesses…when those industries had been banned… Elephants had no job.  Mahouts couldn't earn enough to raise them up or to take care of these giant friends.. Some poor mahouts decided to release their elephants back into the forest. Sad to say that many of them ended up being poached for their tusks, skin..etc.

Not much space left for them to stand in this world..

Many elephant camps were set up despite hopeless donation…it seemed to be just fine when people started to realize their needs, visited them and made donation. They offered a ride to make this visit memorable and fun. Inevitably, it later became a popular part of tourism.
The growth is good if it's not in a greedy one's hand. Some elephant camps treated their elephants well and make them a better living…But some elephant camps abused them.,.treated them like a money-making machine…Integrity disappeared... "cruelty" became the first term stuck in someone's head when the word "elephant ride" was mentioned..

      Tourists denied to come…asa punishment for those greedy camps, but it affected immensely to those caring ones….and directly to elephant's destiny..

Many mahouts started to leave their homeland taking their elephants into bangkok and in any city areas…Holy animals became beggars regardless the law or the voice of conservationists. They rather pay fine than die from starving..
More and more elephants come…more and more died while heading to Bangkok and got crashed by the trucks…by the cars..

As we are in tourism business, we acknowledge this is a problem. That's why we always go to support any good elephant camps to help locals and to keep the elephants away from the concrete world the best we can.
No matter what you would do a ride or not…we encourage you to go to visit them or to make donation. Be sure that the elephant camps we go.. do love and care for their elephants…you can touch and feel the close relationships between the mahouts and elephants..the kindness of the camp owners..who never just let money influence over their humanity and ethics..

Welcome to Elephant Village..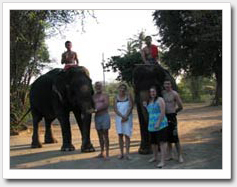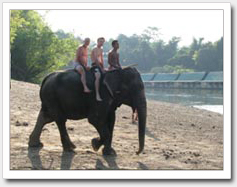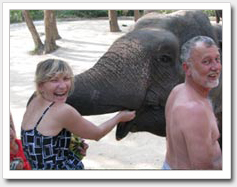 Spread along the River Kwai Noi in Kanchanaburi province. There's a little elephant camp where Karen and Burmese mahouts are living in…No baby elephants are trained to perform the shows. No old elephants working…Mahouts don't hook elephants just for fun.. No souvenir shops…but a lot of welcoming smiles from the little kids playing and giggling around…
This camp offers you a ride and a bath..as well as bamboo rafting..
They welcome you no matter what you would do these activities or not, just feeding elephants or making donation would be appreciated. Nothing compulsory here..
But if you would want to do..whatever..we can be sure that you won't be disappointed!!
Ride or Bath?..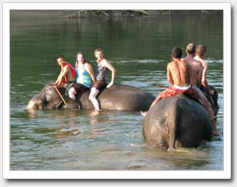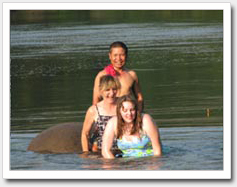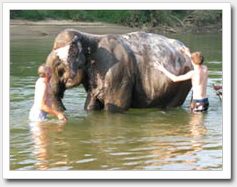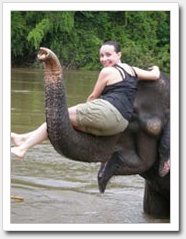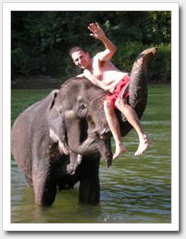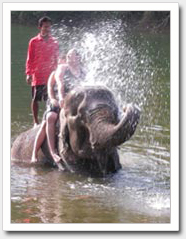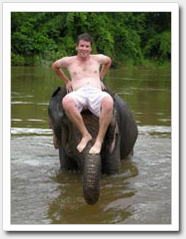 Elephant ride is a routine job for elephants. It's better for one who doesn't want to get wet…but it's really hot.. you will siton the wooden bench..not a problem for anyone who has a knee problem.
But if you really love to try something fun and adventurous.. Giving them a bath is much much better. It has been voted to be the highlight of many tourists'journeys!!!!
    Elephants will love it just as much as you do..and you will have once-in-a-lifetime experience to remember fondly for good..
Adventure begins!!!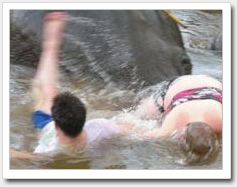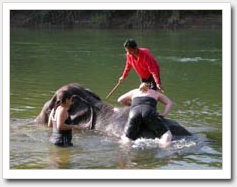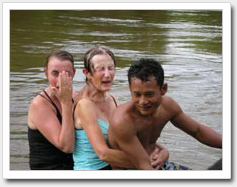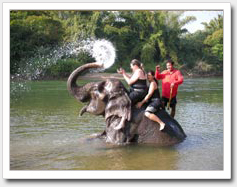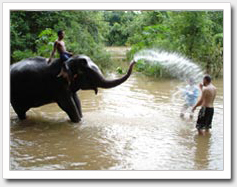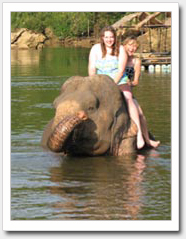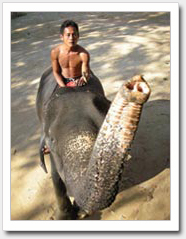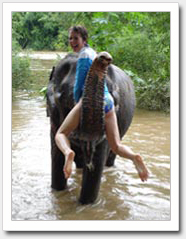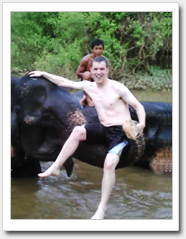 Your adventure begins with hand feeding these lovely elephants. Saying hello and bribing them with bananas…telling them to be nice with you…
After that, take a short ride on bare back with the mahouts down to the river. Appreciate the beauty of this countryside..it's a bit scary walking down the hill for the first timer one..
Shampoo…Shampoo…
You will wash them…bathe with them…brush their ears, head, back and butt. (Ha!). The mahouts will play games with you and the elephants.
     Let's see who will win..
You will see human-like behaviour from the elephants, you will get to understand their amazing sense of humour and see the love between the mahouts and the elephants.
You washed them and then they will wash you…
The elephants will toss you around..splash water with you...they don't want you to be the winner..if you can stay long enough on their backs..you might get to hear the elephants laugh!!
The scenery at the river is absolutely beautiful. The water is crystal clear (depends on the season) and cold enough to be refreshing.
Your guide will be more than happy to take photos for you from your own cameras.. Making video is recommended as it can revive your amazing experience.
Take it from people who have been and who would do anything to go back again and again..
     But you will have a funny looking walk…the day after!!! (Ha!)
What to prepare?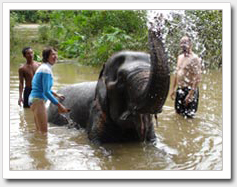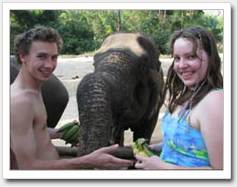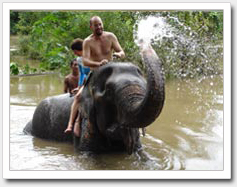 1. Swimming skill (Ha!)
  2. Swim wears and towels.
  3. Elephant hair could be rough, wear shorts or long shorts for sensitive skin.
  4. Cameras and Video Cameras with spare batteries.
  5. One-day contact lenses as glasses can be lost while washing the elephants.
  6. No jewelry worn.
  7. Plastic bags to keep your wet clothes.
  8. Waterproof sunscreen.
Remarks :
- Elephant ride or bath costs 700  baht / pax.
- This can be included for any program going to Kanchanaburi province.