Tong's Team
Tong's satisfied clients have recommended her so much that she has had to create and direct a team of highly professional licensed guides to answer that demand. Like mentioned earlier, each member of her team has been carefully handpicked to ensure the consistent quality of every tour delivered. All the guides in her team are licensed, friendly and very professional.
Nui
Suchada Arekhavanon or Nui, who graduated from Ramkhamhaeng University with a major in English and minor in Mass

Communication. She prides herself in being able to work with diverse groups of people. She also has previously worked with American Express as a sales representative, as a waitress at Bei Otto German Restaurant and with Bangkok Royal Gateway Travel Co. Ltd. She thus has considerable experience conducting tours in and around Bangkok. As a result of her university education, she has an excellent command over written and spoken English. Nui is very friendly with an extremely positive attitude. She is very service minded and will do her utmost to ensure her clients satisfaction. She is now working as an air hostess for Emirates airline, and being a tour guide for us whenever she lands on Bangkok.

Tom

Mr. Itthikorn Luangasnathip, also known as TOM, attended Prince of Songkla University and completed his Bachelor of Arts degree in March '95. He later worked as a Sale Auto Representative and Bank Officer. Now he works as a professional guide besides being a manager of a frozen food company as well as a social studies teacher. He is fluent in Thai and English, besides being proficient in Chinese and is very informative with a great sense of humour. He enjoys showing his city and country to visitors, and will do just about anything to make his clients happy. He is very easy-going and friendly and loves meeting new people. His hobbies are: history, movies, traveling and sports like soccer, tennis and golf.
Charlie
Sakchai Jarungjit or known as Charlie, he was born and grew up in China Town, Bangkok and knows the

ins and outs ofBangkok. He has worked for many American establishments like LDS Charity, Target, and even the U.S. Embassy. He has also worked for Shell in the purchasing department and knows how to shop! He is very fluent in English, very energetic and lively, and extremely good at sniffing out a good bargaining.He is a very good guide and knows and enjoys his work thoroughly. If you want to do some serious shopping, Charlie's the guide for you!
Kung

Areerak Sriratu or Kung. She graduated Bachelor degree in Tourism Industry from Rajabhat Somdej Chaophraya University. She had been working in the hospital for 15 years being a Nurse Aid and a Laboratory assistant. Since almost half of her life being with patients, nothing will be too much trouble for her. Her kindness to people and other lives make a great caring personality shown obviously to anyone being with her. Having said that, Kung also has a quick great sense of humor. She can be naughty if you'd like..prepare to laugh a lot! if you're touring with her.
Lily

Nichakan Lorsunyaluck or Lily graduated Bachelor degree in Faculty of Liberal Arts, Thammasat University (Second class Honors) and Tour Guide Certificate from Silpakorn University, Faculty of Archeology and been guiding Thai people and foreigners since 1998 in many leading tour companies. She is a real sweet lady and very knowledgeable with great English skills, she also speaks some Spanish, but not yet fluent.
Lily is a very religious and dedicating Buddhist, you will learn a lot from her if you're interested in Buddhism.
Nina

Naiyana Harintornan, known as Nina, attended Burapa University and completed her Bachelor of Computer Science degree in 1999, Nina had started her job in computer science for 6 years. She was sick of her job and wanted to widen her horizon by being a licensed tour guide as she loves travelling. She used to work for a few tour companies before but she wasn't happy with, as she doesn't like the typical group tour too commercialized in her opinion. Tong tour's style seems to match with her well. Our team is so lucky to have her as a member since she is a very honest, warm, kind, easy going tour guide and has a great sense of humor with vast knowledge, dedicating and so considerate.
Daeng
Prapaphon Panpoorak or Daeng graduated from Rajabhat Maha Sarakham Institute in English Major. She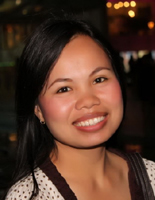 was a local tour guide in Kanchanaburi for a few years and moved to Bangkok to work as a consultant for students in an English language school and as
a receptionist in the Rambrandt Hotel before she decided to study in the tourist guide course at Silpakorn University (Fine Art Dep.) and has become a licensed in-bound tour guide since 2006 until now. Daeng also works part-time as a teacher for a few language schools and teaches Thai language to foreingers, so there's no doubt in her English skills. Daeng is an easy-going and very patient guide. She is so proud to be a Thai and loves to share her knowledge with you in authentic way. However, she is quite shy, but whenever she hangs her guide license on. She will change to be a different person! but  her positive attitude, service-minded and kind heart will never change at all.

Nang
Supaporn Pimchan or Nang graduated Bachelor Degree of Tourism Industrial Education from Rajapat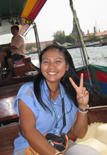 Bansomdajchoaphaya Institute University. Eventhough she majored in Hotel & Tourism Industry, she spents many years working as a nurse-aid and a dentist's assistant. She didn't think she could be a tour guide as she underestimated herself and had no confidence. She thought she would be starving if she worked as a tour guide since she doesn't like to force tourists to do anything for kick-back. Once she met Tong, her humble personality didn't hide her ability from Tong's eyes and Tong's tour style is exactly what she's looking for. This turning point has made a great, knowledgeable, honest, friendly, flexible tour guide in our team.  Not only she has a great command over written and spoken English, but she can speak Khmer & guide tourists in Cambodia also. Nang is a dedicating Buddhist, a down-to-earth person who always goes extra mile to satisfy her clients. She is our real treasure to cherish!

Bank
Kullachet Deedensrisophon or Bank graduated Bachelor Degree in Liberal Arts majored in hotel

and tourism from Kasembundit University. Bank worked for the Emerald Hotel for 2 years in food and beverage division. Eventhough he appreciated his valued experiences gathered from his job, he felt it wasn't him as he loved to chat and to help his guests more than what he was doing. He then decided to study more to improve his English in A.U.A institute and decided to be a professional tour guide. He freelanced for some travel agents for 7 years before ended up to be a part of "tour with Tong" team as one of our guides with vast knowledge, great driving skill and good sense of humor.